- Free Resource Helps Buyers Assess the True Cost of Ownership for the Best Value -
LONG BEACH, Calif. — DENSO Robotics, a global supplier of advanced robotic technology, has published a new guide to help prospective robot buyers meet their manufacturing, packaging and other industrial needs. The guide, "Small Assembly Robots: Comparing the Cost of Ownership of Different Brands," explains what buyers need to know to evaluate their options and comparison shop for the best value.

"There are a number of factors to consider, and some are more obvious than others," said Peter Cavallo, robotics sales manager, DENSO Products & Services Americas, Inc. "Price alone doesnt tell the whole story. Its important to know whats in the package and what isnt."
In a marketplace growing at an unprecedented rate, initial hardware and software costs of small assembly robots vary widely from one manufacturer to another. Some sell the robot arm and controller as a set; others do not include the controller in the base price. Buyers also need to know if an initial quote includes other components, features and software they will need; whether there are additional licensing and activation fees; and what training costs, including travel expenses and employee downtime, are involved.
The total cost of ownership also includes long-term costs, which account for most of what the buyer will ultimately spend on the robot. Key factors are maintenance requirements, telephone support and service contracts, reliability and longevity, obsolescence, speed and productivity, and energy consumption.
Concise and user-friendly, the guide offers a checklist to help all prospective buyers make an informed decision before making a financial commitment.
"With this guide, navigating the market just got a lot easier," Cavallo said.
To download the free guide, visit http://densorobotics.com/downloads/wp/3.
More than 77,000 DENSO robots are used for precision assembly, manufacturing, product testing and quality assurance by companies worldwide. A leader and pioneer in manufacturing automation, DENSO is the worlds largest user of small assembly robots, with more than 17,000 of its own robots designed and used in its own manufacturing facilities. For more information on DENSO Robotics, visit www.densorobotics.com.
About DENSO:
DENSO Corp., headquartered in Kariya, Aichi prefecture, Japan, is a leading global automotive supplier of advanced technology, systems and components in the areas of thermal, powertrain control, electronics and information and safety. Its customers include all the world's major carmakers. Worldwide, the company has more than 200 subsidiaries and affiliates in 38 countries and regions (including Japan) and employs more than 140,000 people. Consolidated global sales for the fiscal year ending March 31, 2015, totaled US$35.9 billion. Last fiscal year, DENSO spent 9.2 percent of its global consolidated sales on research and development. DENSO common stock is traded on the Tokyo and Nagoya stock exchanges. For more information, go to www.globaldenso.com, or visit our media website at www.densomediacenter.com.
About DENSO in North America:
In North America, DENSO employs more than 22,000 people at 30 consolidated companies and affiliates. Of these, 25 are manufacturing facilities located in the United States, Canada and Mexico. In the United States alone, DENSO employs more than 14,000 people in California, Michigan, North Carolina, South Carolina, Tennessee, Kentucky, Georgia, Iowa, Ohio, Pennsylvania, Texas and Arkansas. DENSOs North American consolidated sales totaled US$8.0 billion for the fiscal year ending March 31, 2015. For more information, go to www.densocorp-na.com.
Connect with us on Facebook: www.facebook.com/DENSOinNorthAmerica
Featured Product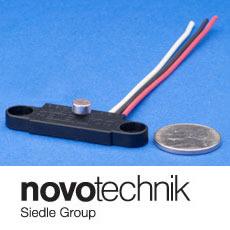 Vert-X 05E Series of dual angle/speed sensors. The series features easy mounting in small and narrow spaces with a 5 mm body depth and mounting flanges with metal inserts. The sensors make measurements only 6 mm from edge of product for close-to-wall measurement applications. Vert-X 05E Series sensors measure angles from 0 to 360°, rotational speed and direction with repeatability to 0.1°.