Mouser was the exclusive sponsor of the contest, which encourages engineering students to submit design projects that utilize TI technology.
DALLAS & FORT WORTH, Texas--Mouser Electronics, Inc. is pleased to congratulate Troy Bryant and Sean Lyons of the University of Florida who were recently named the overall winners of the Texas Instruments Innovation Challenge North America Design Contest.

Mouser was the exclusive sponsor of the contest, which encourages engineering students to submit design projects that utilize TI technology. More than 300 teams from accredited engineering colleges and universities across the United States, Canada and Mexico participated in the challenge.
Mouser is an authorized distributor of Texas Instruments and stocks the widest selection of TI's newest components and development tools while providing same-day shipping around the world.
"Mouser is an avid supporter of education and innovation," said Kevin Hess, Mouser Electronics Vice President of Technical Marketing. "We are proud to have played a part in this contest and congratulate all of the winners."
Entries were judged on five criteria: originality and creativity of design, real world application, level of engineering analysis, usage of TI ICs and processors and working demonstration of design in a video.
Bryant and Lyons designed a musical device that can be operated without advanced motor skills. Featuring a complete design based on TI technology, the team created a synthesizer instrument that can be used by musicians of all skill levels. The device specifically allows disabled musicians to create sounds using simple movements, like the wave of a hand.
Jian Wu, Zhongjun Tian and Lu Sun of the University of Texas at Dallas took second place for their Real-time American Sign Language wearable device. Using a wrist-worn inertial sensor and surface electromyography sensors, the device wirelessly translates sign language to a computer for those who do not know the language.
Third place was awarded to Jordan Street of the University of Florida for Hercules Autopilot, a full flight control system designed for quadrotor unmanned aerial vehicles. Cash prizes were awarded to the top three winners: $10,000 for first place, $7,500 for second place, $5,000 for third place and $2,000 for categorical prize winners.
The category winners are: Best video demonstration, Boston University; best environmental impact, University of Michigan; best use of TI portfolio, University of Toronto; and best use of TI wireless technology, Rice University.
To learn more about the contest, visit http://www.mouser.com/ti-innovation-challenge.
With its broad product line and unsurpassed customer service, Mouser caters to design engineers and buyers by delivering Whats Next in advanced technologies. Mouser offers customers 21 global support locations and stocks the worlds widest selection of the latest semiconductors and electronic components for the newest design projects. Mouser Electronics website is updated many times per day and searches more than 10 million products to locate over 4 million orderable part numbers available for easy online purchase. Mouser.com also houses an industry-first interactive catalog, data sheets, supplier-specific reference designs, application notes, technical design information, and engineering tools.
About Mouser Electronics
Mouser Electronics, a subsidiary of TTI, Inc., is part of Warren Buffett's Berkshire Hathaway family of companies. Mouser is an award-winning, authorized semiconductor and electronic component distributor, focused on the rapid introduction of new products and technologies to electronic design engineers and buyers. Mouser.com features more than 4 million products online from more than 500 manufacturers. Mouser publishes multiple catalogs per year providing designers with up-to-date data on the components now available for the next generation of electronic devices. Mouser ships globally to over 500,000 customers in 170 countries from its 492,000 sq. ft. state-of-the-art facility south of Dallas, Texas. For more information, visit http://www.mouser.com.
Featured Product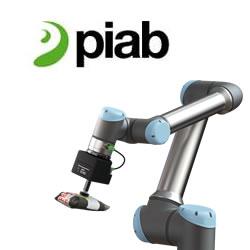 Piab's Kenos KCS gripper enables a collaborative robot to handle just about anything at any time. Combining Piab's proprietary air-driven COAX vacuum technology with an easily replaceable technical foam that molds itself around any surface or shape, the gripper can be used to safely grip, lift and handle any object. Standard interface (ISO) adapters enable the whole unit to be attached to any cobot type on the market with a body made in a lightweight 3D printed material. Approved by Universal Robots as a UR+ end effector.