Automation improves the safety and efficiency of the roll handling process. Visit Motion Controls Robotics in booth #4421 at the CPP Expo to see how FANUC robots are integrated into the application to transform the roll handling process.
Fremont, OH 8/11/2015 - Motion Controls Robotics, Inc (MCRI) will display their unique capabilities for robotic roll handling in booth #4421 during the combined Converting and Package Printing (CPP) Expo and Graph Expo, September 13-16 at McCormick Place in Chicago, Illinois.

Robotic roll handling is an application where Motion Controls Robotics has gained a variety of experience over the years from smaller, lighter weight rolls such as roofing to large, heavy rolls of adhesive tape to bulky rolls of insulation. Each job requires a custom solution, flexible end of arm tool, and a durable robot. Motion Controls Robotics has designed a variety of robotic roll handling systems, including palletizing, packaging, machine tending, and general roll/material handling. MCRI has experience developing end of arm tools that allow the robot to have a dual purpose saving the customer money on robotics and floor space. Lastly, MCRI uses only industry leading FANUC robots for their applications. FANUC robots are extremely reliable with uptime of 80,000 hours mean time between failures. FANUC's robot selection also features a variety of robots with world class reach and payload.
Rolls are typically heavy or bulky and having people moving these can cause ergonomic issues and even injury. Automating roll handling improves the safety and improves the efficiency of the process. MCRI can also pair a SmartCart Automatic Guided Cart solution into the robotic roll handling application to take away or deliver rolls to the robot cell.
Motion Controls Robotics is offering in conjunction with the CPP Expo free preventative maintenance for one year with the purchase of a new robotic roll handling system. This offer is worth more than $900 for each robot in the system. Come see a Motion Controls Robotics representative in booth #4421 to pick up a certificate for free preventative maintenance for when the time comes to automate.
Motion Controls Robotics would like to offer free registration to the 2015 CPP Expo to all their current and potential customers using the customer priority code 30592. Register at graphexpo.com, enter the registration code in the top box on the page, and select Complimentary Exhibits-Only Show Admission.
Visit Booth #4421/Customer Priority Code 30592 - To set up a meeting to discuss robotic roll handling with an MCRI Sales Contact during the CPP Expo, contact Earl Raynal Jr. at (419) 334-5886
About Motion Controls Robotics - Founded in 1995 and celebrating 20 years of continuous growth, Motion Controls Robotics is a leading provider of automation solutions to manufacturing industries. The company provides full service robotic solutions from concept to installation and service/support that keep manufacturers competitive. Motion Controls Robotics creates solutions for Fortune 500 and small to medium-sized companies in the food & beverage, plastics, building & construction materials, converting, manufacturing and board & sheet goods industries. They also automate small production shops and machine job shops. Motion Controls Robotics provides automation solutions to manufacturers for a variety of applications including material handling (case packing, palletizing and machine tending), and vision-guided systems. Motion Controls Robotics is an exclusive Level 4 Certified Servicing Integrator for FANUC Robotics, and a SmartCart Automatic Guided Cart Value Added Reseller (VAR) for Daifuku Webb.
Motion Controls Robotics northwest Ohio headquarters is located at 1500 Walter Avenue, Fremont, Ohio. www.motioncontrolsrobotics.com
Featured Product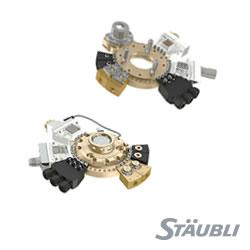 Stäubli is a pioneer in the construction and development of robotic tool changing systems. Our customers benefit from our many years of expertise in all industry sectors, as well as our modular product concept, which offers three efficient solution paths: MPS COMPLETE offers preconfigured robotic tool changers for immediate use. MPS MODULAR allows the user to determine the configuration, while MPS CUSTOMIZED allows the construction of special, application-specific systems.