Rethink Robotics and Sonoco Alloyd Partner to Provide Collaborative Robots and Advanced Packaging Technologies as a Complete Solution for Customers
BOSTON, Aug. 11, 2015 -- Rethink Robotics and Sonoco Alloyd, a unit of global packaging leader Sonoco (NYSE: SON), have entered into a strategic alliance to deliver complete, innovative manufacturing solutions to Sonoco Alloyd's packaging customers.

Sonoco Alloyd, a leader in medical and retail package design solutions based in DeKalb, Ill., will incorporate Rethink Robotics' collaborative robots into its line of sealing machines in order to provide a complete automation solution for its customers. Rethink's Baxter and Sawyer robots will be sold as part of an integrated part transfer and sealing system through Sonoco Alloyd's salesforce. The partnership will give Sonoco Alloyd's manufacturing customers a flexible, adaptable and low-cost solution to more fully automate their custom packaging lines.
"At Sonoco Alloyd, we believe that leveraging the industry's most advanced collaborative robot technologies, along with our own world-class sealing systems, can provide a unique and complete solution for customers that will deliver real results in a short timeframe," said Jeff Christensen, vice president/general manager of Sonoco Alloyd.
"We are constantly listening to our customers and developing new ways to improve the quality of services and solutions we deliver. Rethink Robotics provides a differentiated technology that we have begun to use in our own factories, and we are now able to pass those innovations on to our customers, as well," he concluded.
"As an innovator in its space, Sonoco Alloyd is at the forefront of providing what today's global manufacturers need to be successful," said Scott Eckert, president and CEO at Rethink Robotics. "Sonoco Alloyd understands that collaborative robots are a big part of the future of manufacturing, this alliance allows Sonoco Alloyd to offer additional value to the reliable automation it's already providing to customers. The combination of these two great product lines is a huge competitive advantage for manufacturers everywhere."
For more information, please visit www.alloyd.com and www.rethinkrobotics.com.
About Rethink Robotics
Rethink Robotics, Inc. helps manufacturers meet the challenges of an agile economy with an integrated workforce, combining trainable, safe and cost-effective robots with skilled labor. Its Baxter robot, driven by Intera, an advanced software platform, gives world-class manufacturers and distributors in automotive, plastics, consumer goods, electronics and more, a workforce multiplier that optimizes labor. With Rethink Robotics, manufacturers increase flexibility, lower costs and can invest in skilled labor—all advantages in fueling continuous innovation and sustainable competitive advantage.
Committed to accelerating robotics innovation in manufacturing and beyond, Rethink Robotics' Baxter Research Robot gives academic and corporate research environments a humanoid robot platform with integrated sensors and an open software development kit for creating custom applications.
Based in Boston, the company is funded by Bezos Expeditions, Charles River Ventures, Highland Capital Partners, Sigma Partners, DFJ and Two Sigma Ventures. For more information about Rethink Robotics, please visit www.rethinkrobotics.com or follow us on Twitter @RethinkRobotics.
About Sonoco Alloyd
Sonoco Alloyd is a leader in custom thermoformed and printed package design, offering innovative, skillfully engineered protective packaging solutions for a variety of markets. Sonoco Alloyd is a unit of Sonoco. Founded in 1899, Sonoco is a global provider of a variety of consumer packaging, industrial products, protective packaging, and displays and packaging supply chain services. With annualized net sales of approximately $5 billion, the Company has 20,800 employees working in more than 330 operations in 34 countries, serving some of the world's best known brands in some 85 nations. Sonoco is a proud member of the 2014/2015 Dow Jones Sustainability World Index. For more information on the Company, visit www.alloyd.com and www.sonoco.com.
Featured Product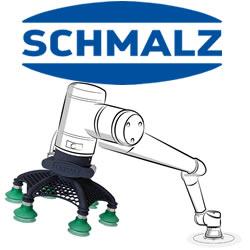 In order to interact with their environment and perform the tasks, lightweight robots, like all industrial robots, depend on tools - and in many cases these are vacuum grippers. These form the interface to the workpiece and are therefore a decisive part of the overall system. With their help, the robots can pick up, move, position, process, sort, stack and deposit a wide variety of goods and components. Vacuum gripping systems allow particularly gentle handling of workpieces, a compact and space-saving system design and gripping from above. Precisely because the object does not have to be gripped, the vacuum suction cupenables gapless positioning next to each other.