Addition of SMI4Motion linear actuators will enable BWG to service all markets and customers needing linear motion technology
Pittsburg, Calif. - August 13, 2015 - Bishop-Wisecarver Group (BWG), a WBENC-certified, woman-owned family of companies that offer guidance solutions, contract specialty manufacturing and mechatronic-based engineering services, today announced it has acquired Specialty Motions, Inc.s (SMI) linear actuator product line. Complementing BWGs existing line of high-end linear actuators, the addition of the SMI4Motion product offering will enable BWG to expand the markets it serves by offering a wider range of linear actuators that meet the diverse requirements and product specifications of its customers.

Located in Southern California, SMI has been creating and developing motion control and automation devices, components and systems since 1990 under the same owner and management. Its product line includes linear actuators from simple manual stages to ball screw actuators including push pull type, to multi-axis, miniature precision or high-performance customizable linear motor systems. This extensive product offering will complement BWGs range of belt, chain, lead screw and ball screw actuators covering applications from low load to heavy duty and from fast to slow speeds, including corrosion-resistant versions to accommodate food and laboratory applications.
"This acquisition reaffirms BWGs commitment to offer its customers the best and most comprehensive product lines, ultimately making it easier for them to do business with BWG," said Pamela Kan, president of Bishop-Wisecarver Group. "We are proud to add the SMI4Motion linear actuators to our expansive product line-up as SMI has a long-standing reputation of delivering high quality, accuracy and performance in all of its products. SMI linear actuators are highly customizable and follow the BWG design methodology. This broadens our capability to offer and design the most complete linear motion solution regardless of the technology."
"We are extremely pleased to transition the SMI4Motion product line to a company that shares our same culture, history of innovation and vision," said Thomas and Dorothy Corey of Specialty Motions, Inc. "This is not only an exciting day for our two companies, but also for existing and future SMI4Motion customers who will benefit from the BWG umbrella and access to a more expansive linear motion product line-up."
Details of the Acquisition:
As part of the agreement, BWG will acquire SMIs designed and manufactured line of linear actuators, which includes the following products:
• Easy Slide™ Ball Slides Series
• ECO33™ Linear Actuator
• ECO60™ Linear Actuator
• MP™ Series Linear Actuators
• Simple Slide™ Linear Tables
• Slick Stick™ Linear Actuator
• Steady Rail™ Linear Stage Driven
• Steady Rail™ Linear Stage Manual
• TwinLite™ Linear Actuator
• XLA™ 9 Linear Actuator
• XLA™ 15 Linear Actuator
• X-TREME™ Nano-Precision Linear Actuator
SMI will also transfer to BWG its SMI4Motion machine tools, tooling, equipment, inventory, supplies, and intellectual property related to the SMI linear actuators. The SMI web site and toll free number will now redirect customers to www.bwc.com.
"To ensure a seamless transition, the SMI4Motion linear actuator product lines will be integrated immediately into the BWG product line and made available to all current and future customers," said Aldo DeAmicis, Vice President of Operations at Bishop-Wisecarver Group. "We are excited to carry on SMIs established legacy of innovative actuator designs and on-time delivery, and look forward to providing all customers of linear motion technology with the best products, service and customer support."
New orders for SMI4Motion linear actuators are expected to ship in approximately 3 to 6 weeks for standard configurations as SMI transitions all the SMI4Motion machine tools from Corona, California to the BWG manufacturing facility in Pittsburg, California. The two companies expect to complete the initial transition in August 2015.
About the Bishop-Wisecarver Group
Bishop-Wisecarver Group (BWG) is a woman-owned family of WBENC-certified (Womens Business Enterprise National Council) companies that work with manufacturers to engineer, manufacture and build linear and rotary motion solutions, custom complex assemblies and optimal embedded intelligence systems.
Featured Product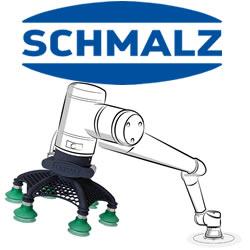 In order to interact with their environment and perform the tasks, lightweight robots, like all industrial robots, depend on tools - and in many cases these are vacuum grippers. These form the interface to the workpiece and are therefore a decisive part of the overall system. With their help, the robots can pick up, move, position, process, sort, stack and deposit a wide variety of goods and components. Vacuum gripping systems allow particularly gentle handling of workpieces, a compact and space-saving system design and gripping from above. Precisely because the object does not have to be gripped, the vacuum suction cupenables gapless positioning next to each other.