Local and regional groups partner with UBM Canon Medical, Design, and Advanced Manufacturing Event
SANTA MONICA, Calif., Aug. 13, 2015 -- Local and regional industry organizations in the Philadelphia area have welcomed the cross-industry design and manufacturing trade event that is coming to the Pennsylvania Convention Center, October 7-8, 2015. The co-located trade shows include hallmark brands MD&M Philadelphia (Medical Design & Manufacturing), PhillyPack (packaging), Design & Manufacturing Philadelphia (product design and manufacturing for all industries), ATX Philadelphia (automation), PLASTEC Philadelphia (for the plastics industry), and Quality Expo Philadelphia (quality control and assurance).

Greater Philadelphia and the surrounding region are consistently ranked as a world-class life sciences and medical sector, also boasting strength in manufacturing across the board. Manufacturing organizations throughout the region have announced partnerships with producer UBM Canon to support the event.
"We are thrilled to be hosting MD&M Philadelphia, PhillyPack, and the other shows," said Bonnie Grant, Executive Director of PHILLIFE, the Greater Philadelphia Life Sciences Congress. "We pride ourselves as not only a city of history, but a city of medical history and innovation. Our convention attendees often discover long term business opportunities in our region."
In addition to PHILLIFE, other organizations partnering for the event include:
* American Society for Quality (ASQ) Philadelphia
* Greater Philadelphia Alliance for Capital & Technology (PACT)
* Healthcare Institute of New Jersey
* MichBio, a Michigan organization for the biosciences industry
* Pennsylvania Bio, the Voice of Advancement for Pennsylvania's Bioscience Industry
* Pittsburgh Technology Council
* Society of Plastics Engineers (SPE) Philadelphia
The event will also include an impressive lineup of educational conferences, where top speakers will discuss innovations in medical design, medical materials and polymers, packaging design, 3D printing innovations, and user-centered product development. The expo floor will feature hundreds of exhibitors covering all of these important industry sectors.
For more information about UBM Canon's six co-located events in Philadelphia and to register, please visit:
MD&M Philadelphia: mdmphilly.mddionline.com
PhillyPack: phillypack.packagingdigest.com
Design & Manufacturing Philadelphia: dmphilly.designnews.com
ATX Philadelphia: atxphilly.designnews.com
PLASTEC Philadelphia: plastecphilly.plasticstoday.com
Quality Expo Philadelphia: qualityexpo-philly.designnews.com
About UBM Canon
UBM Canon is the leading B-to-B event producer, publisher, and digital media company for the world's $3 trillion advanced, technology-based manufacturing industry. Our print and electronic products deliver trusted information to the advanced manufacturing market and leverage our proprietary 1.3 million name database to connect suppliers with buyers and purchase influencers. We produce more than 50 events and conferences in a dozen countries, connecting manufacturing professionals from around the globe. UBM Canon is part of UBM plc (UBM.L) a global provider of media and information services for professional B-to-B communities and markets.
Featured Product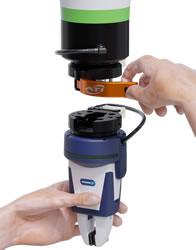 Simpler, stronger, and more precise. ATI Industrial Automation has developed a series of Manual Tool Changers that provides a cost-effective solution for quickly changing tools by hand. They feature a unique design that combines high strength, excellent repeatability, and a patent-pending screw-cam locking mechanism with multiple fail-safe features, which resists vibration and prevents loosening. These robust and compact Manual Tool Changers can handle payloads up to 80 pounds (36 kg) and pass pneumatics and electrical signals.