RFC4800 Series now features a CANopen ouput version that is CiA DS-301 compliant.
Southborough, MA… Novotechnik, U.S. introduces the RFC4800 Series of touchless programmable rotary angle sensors that provide absolute, rotary position. Their magnetic technology makes measurements through air and non-magnetic materials.

RFC4800 Series now features a CANopen ouput version that is CiA DS-301 compliant.
The RFC4800 Series utilizes a magnetic pickup to provide a touchless measurement range of 0 to 360°. Key specifications include ingress protection from liquids and dust to the IP 69K standard, resolution of 14 bits, repeatability of 0.36° and independent linearity of ±0.5 %.
A magnetic pickup mounts to a shaft on users application with seven different size markers available for dimensional flexibility and to optimize detection for different applications.
A good degree of customization is built into the RFC4800 Series. Offset, scale, direction of rotation, steps over position measurement range, reporting of speed by channel, limit switches and their initial state as well as baud rate are all programmable.
RFC4800 Series sensors with CANOpen output have an operating temperature range of -40°C to +105°C. Cable and connector versions are available.
For more information contact Novotechnik U.S., Inc., 155 Northboro Road, Southborough, MA 01772 • Phone: 508-485-2244 • Fax: 508-485-2430 • Web: www.novotechnik.com/rfc48
Featured Product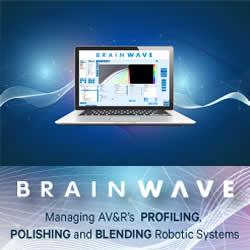 The AV&R team has developed a software for our robotic machines with the mission to make robotics accessible to everyone. This software is the glue which orchestrates the interaction between the system components in a single user-friendly interface. Comparing our machines to ourselves as humans, this software would be the control center of all faculties of the body, hence its name: BrainWave.