A sterilizable EC-4pole 30 from maxon motor
maxons new brushless electric motor, the EC-4pole 30, delivers high torque (106 mNm) and is sterilizable - a perfect drive for hand-held surgical tools.

Swiss drive specialist maxon motor has developed a robust brushless DC motor for hand-held surgical tools: the EC-4pole 30. Featuring two pole pairs, this DC motor provides a nominal torque of 106 mNm and an output of 150 W. It has a hermetically sealed rotor, meaning that it can withstand over 1000 autoclave cycles.
Need to operate at overload? No problem!
The EC-4pole 30 is equipped with the special ironless maxon winding, which makes it highly efficient. Another key feature is that the torque and current behave linearly and the drive can be overloaded. It is available with an optional Hall sensor, as well as with a hollow shaft with a diameter of up to 4.1 millimeters.
With the EC-4pole 30, engineers get a first-class drive for surgical hand tools that work flawlessly under the tough conditions of operating rooms.
maxon offers a complete line of dc brushed and brushless motors, gearheads and controllers. Contact us to help find the right solution for your application.
Featured Product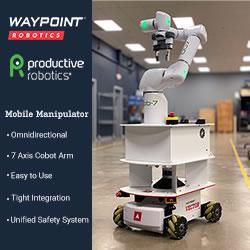 Waypoint Robotics/Productive Robotics omnidirectional 7 DoF mobile manipulator combines the easiest to use, most capable omnidirectional autonomous mobile robot with the simplest and most flexible 7 axis collaborative robot arm. The Vector AMR's omnidirectional mobility enables fast, precise docking in any direction or orientation so the OB7 can perform accurate and precise grasping or picking tasks, taking full advantage of the cobots' 7 degrees of freedom (7 DoF) and superior dexterity. It can be powered using Waypoint's EnZone wireless charger that provides on-demand energy and opportunity charging for longer run times. Workers can use this mobile platform to perform repetitive tasks such as machine tending, quality assurance sampling, material replenishment, packaging, and many others, so they can focus on the high skilled jobs for which they are uniquely qualified. It has never been easier or more cost effective to deploy a mobile manipulator for manufacturing and logistics applications.