A sterilizable EC-4pole 30 from maxon motor
maxons new brushless electric motor, the EC-4pole 30, delivers high torque (106 mNm) and is sterilizable - a perfect drive for hand-held surgical tools.

Swiss drive specialist maxon motor has developed a robust brushless DC motor for hand-held surgical tools: the EC-4pole 30. Featuring two pole pairs, this DC motor provides a nominal torque of 106 mNm and an output of 150 W. It has a hermetically sealed rotor, meaning that it can withstand over 1000 autoclave cycles.
Need to operate at overload? No problem!
The EC-4pole 30 is equipped with the special ironless maxon winding, which makes it highly efficient. Another key feature is that the torque and current behave linearly and the drive can be overloaded. It is available with an optional Hall sensor, as well as with a hollow shaft with a diameter of up to 4.1 millimeters.
With the EC-4pole 30, engineers get a first-class drive for surgical hand tools that work flawlessly under the tough conditions of operating rooms.
maxon offers a complete line of dc brushed and brushless motors, gearheads and controllers. Contact us to help find the right solution for your application.
Featured Product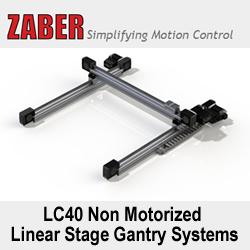 A Zaber gantry kit comes with everything you need to build a customized XY gantry system or XYZ gantry system. These gantry systems feature coordinated multi-axis motion, plug-and-play operation, easy integration with end-effector options, and built-in IO and E-Stop capabilities. An intuitive ASCII interface allows the user to easily communicate with the gantry systems using our free software, either Zaber Motion Library with APIs for several popular languages or Zaber Console. Third party terminal programs that can communicate over a serial port can also be used.