A sterilizable EC-4pole 30 from maxon motor
maxons new brushless electric motor, the EC-4pole 30, delivers high torque (106 mNm) and is sterilizable - a perfect drive for hand-held surgical tools.

Swiss drive specialist maxon motor has developed a robust brushless DC motor for hand-held surgical tools: the EC-4pole 30. Featuring two pole pairs, this DC motor provides a nominal torque of 106 mNm and an output of 150 W. It has a hermetically sealed rotor, meaning that it can withstand over 1000 autoclave cycles.
Need to operate at overload? No problem!
The EC-4pole 30 is equipped with the special ironless maxon winding, which makes it highly efficient. Another key feature is that the torque and current behave linearly and the drive can be overloaded. It is available with an optional Hall sensor, as well as with a hollow shaft with a diameter of up to 4.1 millimeters.
With the EC-4pole 30, engineers get a first-class drive for surgical hand tools that work flawlessly under the tough conditions of operating rooms.
maxon offers a complete line of dc brushed and brushless motors, gearheads and controllers. Contact us to help find the right solution for your application.
Featured Product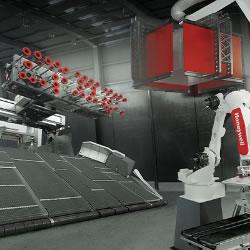 Challenges on the loading dock are characteristic of greater pressures from the rise of e-commerce. Loading and unloading freight from trailers, trucks and shipping containers are arduous, repetitive tasks plagued by high turnover. Even with regularly available staff, manually unloading freight and the constant lifting and twisting results in fatigue and inconsistent, declining productivity. Robotics capable of fully automating unloading tasks bring a new paradigm to the dock. High performance and flexibility push unloading from a labor-heavy, manual chore to an automated, refined process. High-performing DC workers can take more desirable positions, with relief from unpleasant work conditions. Management gets to replace uncertainty and staffing challenges with a reliable, automated process, with data to fuel continuous improvement.