Combi Packaging Systems and Motion Controls Robotics, Inc (MCRI) will be introducing a new robotic end of line case packing and palletizing solution at PACK EXPO Las Vegas, September 28-30, 2015 in the Las Vegas Convention Center.
Fremont, OH 8/17/15 -Motion Controls Robotics has been designing and installing quality robotic solutions for over 20 years. During this time, MCRI has focused on developing flexible solutions for a variety of industries and applications with specialization in a wide range of case packing and palletizing solutions.

Motion Controls Robotics, a FANUC Authorized System Integrator, recently partnered with Combi Packaging Systems to develop the ErgoPackPal. This complete case packing and palletizing system is a small footprint solution for low to medium throughput applications. The ErgoPackPal leaves the job of both case packing and palletizing to one FANUC M710iC robot. This system provides the perfect solution for a situation where a worker is packing and palletizing at a single station over multiple shifts. Installing an ErgoPakPal provides a cost savings through the use of a dual function robot and allows for flexibility over permanent robot installations.
The ErgoPakPal, while a complete solution, can be customized with special end of arm tooling for a variety of product needs. The high speed and compact FANUC
R1000R2000 can also be used in jobs where a higher weight limit is required. MCRI can also pair a SmartCart Automatic Guided Cart solution with the ErgoPakPal to take away full pallet loads and deliver packaging materials to the robot cell.
During the PACK EXPO show the ErgoPackPal can be seen in action at Combis booth C-3245. Combi Packaging Systems will also be demonstrating their Sanitary Case Sealer and Alphapack Case Packer. Both of these automation cells are new products designed to dramatically improve the efficiency of the case packing and sealing processes.
Combi Packaging Systems and Motion Controls Robotics would like to extend the offer for free registration to any current or potential customer. Free registration is available here; use code 98F73.
Read more about and watch video of the ErgoPakPal complete automation solution.
Visit Booth C-3245 - To set up a meeting to discuss the ErgoPakPal, SmartCart AGCs or other case packing and palletizing solutions from MCRI during PACK EXPO, contact Paul Getten at (419) 334-5886.
About Motion Controls Robotics - Founded in 1995 and celebrating 20 years of continuous growth, Motion Controls Robotics is a leading provider of automation solutions to manufacturing industries. The company provides full service robotic solutions from concept to installation and service/support that keep manufacturers competitive. Motion Controls Robotics creates solutions for Fortune 500 and small to medium-sized companies in the food & beverage, plastics, building & construction materials, converting, manufacturing and board & sheet goods industries. They also automate small production shops and machine job shops. Motion Controls Robotics provides automation solutions to manufacturers for a variety of applications including material handling (case packing, palletizing and machine tending), and vision-guided systems. Motion Controls Robotics is an exclusive Level 4 Certified Servicing Integrator for FANUC Robotics, and a SmartCart Automatic Guided Cart Value Added Reseller (VAR) for Daifuku Webb.
Motion Controls Robotics northwest Ohio headquarters is located at 1500 Walter Avenue, Fremont, Ohio. www.motioncontrolsrobotics.com
About Combi Packaging Systems LLc
Combi Packaging Systems LLC is a leading U.S. manufacturer of end-of-line packaging equipment, with more than 36 years service in case erectors, case sealers, case packers, tray formers, ergonomic hand-packing stations, robotic case packing and case labelers. Combi Packaging Systems LLC was formed as a joint venture between 3M and The MJ Maillis Group in 1999.
Featured Product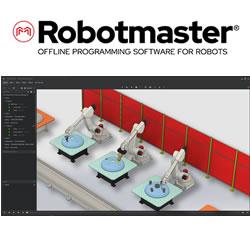 Program multi-robot cells and automatically solve robotic errors with ease. Hypertherm Associates announces a new version to its robotic programming software. Robotmaster 2024 addresses key market trends including the support for programming multiple robots in a single work cell and the demand for automatic trajectory optimization and robotic error correction.