The TDM750 will be available in the third quarter of 2015.
BERKSHIRE, U.K. — Aug. 19, 2015 — Bluebell Opticom Ltd., provider of innovative fibre-optic solutions for fixed and remote applications, today introduced the TDM750, a stand-alone or rack-mounted module for transporting HD-SDI and 100BaseT Ethernet signals. The unit provides cost-effective fibre connectivity for the growing range of compact and remote HD pan/tilt cameras used in concert halls and government chambers, making it possible to forego copper cabling and increase the distance between the cameras and the control room.

"Often in historic buildings like a parliament chamber, the placement of the control room is limited by legacy factors like copper cabling, which can make for cumbersome setups in less-than-ideal locations," said Paul McCann, managing director, Bluebell Opticom. "The TDM750 uses multicore fibre, not copper, to bring feeds from any meeting room or chamber back to the central engineering room. That means cameras and engineering rooms can be placed in the locations that best suit the building and the given production, no matter the distance from the shoot, and operators can still retain full control of the cameras. This capability is a distinct advantage in older buildings or buildings with limited access."
An affordable modular interface based on Bluebell's popular and growing BC Series transport system, the TDM750 uses multicore fibre that allows the installer to transport and control a large number of remote cameras over a single cable. The interface requires only two fibres (with an option for single-fibre operation), making it perfect for smaller robotic/POV camera systems that require only a single video path and bidirectional data via Ethernet. It is available as a stand-alone link or in a 19-inch rack, from which it can connect multiple cameras from single or multiple locations. The self-contained module can also be used as a building block in larger optical networks alongside other interface requirements.
The TDM750 will be available in the third quarter of 2015.
Further information about Bluebell and the company's products is available at www.bluebell.tv.
Featured Product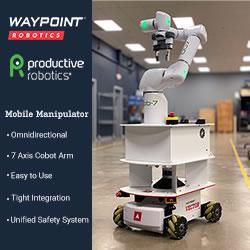 Waypoint Robotics/Productive Robotics omnidirectional 7 DoF mobile manipulator combines the easiest to use, most capable omnidirectional autonomous mobile robot with the simplest and most flexible 7 axis collaborative robot arm. The Vector AMR's omnidirectional mobility enables fast, precise docking in any direction or orientation so the OB7 can perform accurate and precise grasping or picking tasks, taking full advantage of the cobots' 7 degrees of freedom (7 DoF) and superior dexterity. It can be powered using Waypoint's EnZone wireless charger that provides on-demand energy and opportunity charging for longer run times. Workers can use this mobile platform to perform repetitive tasks such as machine tending, quality assurance sampling, material replenishment, packaging, and many others, so they can focus on the high skilled jobs for which they are uniquely qualified. It has never been easier or more cost effective to deploy a mobile manipulator for manufacturing and logistics applications.