Piab DURAFLEX friction cups provide firm grip on slippery materials
Hingham, MA -To help automotive and white goods manufacturers improve production speed and eliminate bottlenecks, Piab offers its DURAFLEX Friction Cups, a line of suction cups providing the ultimate grip on oily and wet surfaces. The cups special grip pattern enables operators to safely and reliably move slippery metal goods without slowing production lines. This offering from Piab, the leading innovator in industrial vacuum technology, allows manufacturers to reduce product droppage and lower scrap rates.

Piabs DURAFLEX Friction Cups feature a rough cleat surface and sharp cleat edges and channels. This design creates greater friction and a stronger hold compared to traditional traction suction cups. Normal cup abrasion resulting from handling oily sheets does not degrade the shear force performance of Piabs friction cups over time. The added durability of the cups extends use life for long-term reliability.
Piabs DURAFLEX Friction Cups maintain their hold on heavy and slippery sheets during accelerations and de-accelerations, especially in the instance of emergency stoppages. All parts are maintained in the proper position to facilitate applications such as stamping, reducing scrapped products and improving overall line sustainability. Made of DURAFLEX polyurethane, Piabs Friction Cups will not break or crack after exposure to ultraviolet light, heat or ozone, which is an issue with cups comprised of rubber compounds.
To prevent damage to the surface of thin metal sheets common in automotive and large appliance applications, Piabs DURAFLEX Friction Cups feature a dual-hardness design and soft cup body. Lower vacuum force is needed to seal the cups to part surfaces for gentler handling. The soft lip of Piabs friction cups also molds easily to curved surfaces for less vacuum leakage and stronger grip.
The cups also maintain their elastic memory and original shape for an expanded life cycle. Installing fewer cup replacements results in costs savings and reduction in waste, helping manufacturers meet their sustainability goals. Additionally, the durability and effectiveness of Piabs friction cups enable manufacturers to use fewer cups if production speeds allow.
Manufacturers can choose from several models of Piab DURAFLEX Friction Cups. The BFF model is ideal for handling concave and convex surfaces while the FCF model offers increased stability for handling larger metal sheets. For products with narrow surfaces, Piab also offers its friction cups in two oval shapes. The cups operate between temperatures of 50º to 122º F.
"Our customers are operating in a volatile economy where increasing productivity is essential for success," said Peter Tell, Chief Technical Officer, Piab. "Todays manufacturers must not only accelerate the production of quality goods, they must also reduce expenses while exercising environmental awareness. At Piab, we are dedicated to continually developing smart-engineered technology to help companies stay ahead of the curve."
About Piab
Established in 1951, Piab designs innovative vacuum solutions that improve the energy-efficiency, productivity, and working environments of vacuum users around the world. As a reliable partner to many of the worlds largest manufacturers, Piab develops and manufactures a complete line of vacuum pumps, vacuum accessories, vacuum conveyors and suction cups for a variety of automated material handling and factory automation processes. Piab utilizes COAX®, a completely new dimension in vacuum technology, in many of its original products and solutions. COAX® cartridges are smaller, more energy efficient and more reliable than conventional ejectors, and can be integrated directly into machinery. This allows for the design of a flexible, modular vacuum system. Piab is a worldwide organization with subsidiaries and distributors in more than 70 countries. Its headquarters are in Sweden. For more information about Piab vacuum solutions for a diverse range of applications, visit www.piab.com.
Featured Product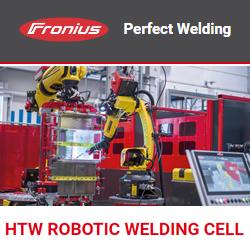 Modular, collaborative, and flexible: the "Handling-to-Welding" robotic welding cell joins parts of different geometries and materials. The task is carried out by two robots - the handling robot positions the workpieces, the second robot performs the welding. Depending on the cell configuration, lock gates are available for the inward and outward transport of parts. Furthermore, various positioners, a TCP measurement system, a torch cleaning system, a gripper station, and a contact tip change system are also possible.