IBM, Google Executives Featured Speakers at RoboBusiness
FRAMINGHAM, Mass., Aug. 18, 2015 -- As drones buzz, robots glide and entrepreneurs connect, the rise of robotics will take center stage during RoboBusiness at the San Jose Convention Center September 23-24.

The focus? How robotics is making its way into corporate environments and strategy, and in unexpected ways. Remy Glaisner, CEO of Myria Research, will address this trend in his session, The Rise of the Chief Robotics Officer.
"Businesses need to start to understand that robotics is like IT" Glaisner said. "Two to three years ago, if you were talking to a business about robotics, you were talking to a small research and development team. Now, you talk to people who are in management, and it starts to seem less like science fiction."
Notable Speaking Sessions:
* Keynote by Ray Kurzweil, a Director of Engineering at Google and co-founder of Singularity University, on AI and other advanced technology
* Keynote by Rob High, IBM Fellow and VP and CTO of the Watson Group, on applications made possible by adding cognitive computing to robotics hardware
* Robots in the Home: Current Systems and Future Possibilities moderated by Alison Sander, Director of the Center for Sensing and Mining the Future at The Boston Consulting Group
* Managing Robotics Integration in a Major Medical Facility by Brian Herriot, Director, UCSF Medical Center
* Commercial Implications of FAA Regulations moderated by AUVSI (Association for Unmanned Vehicle Systems International)
The conference will also feature exhibitor demonstrations of emerging technology. Attendees will interact with the world's first personal robot, provide hands-on training to collaborative robots and watch 15 startups battle for funding in the annual Pitchfire competition.
According to Eric Foellmer, product marketing manager at Rethink Robotics, the benefits of attending RoboBusiness depend on the person: "For end users, it's a perfect showcase of the latest and greatest robotics solutions; for media and analysts, it provides the financial and social implications of the recent robotics technology; and for robotics startups, it's an excellent place to explore the industry with an audience of robot manufacturers."
Media attending will have exclusive access to these technologies and more in the Expo from 11 a.m. to 12 p.m. on September 23, with demos ranging from robotics in healthcare to hospitality and tourism.
For more information or to register to attend, visit www.robobusiness.com.
Join the conversation: @RoboticBusiness | #RoboBusiness.
Featured Product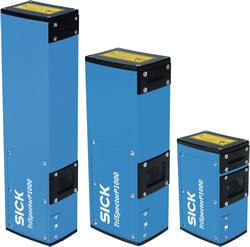 LiDAR (Light Detection and Ranging) is one of the most reliable methods for parts sensing in factory automation today. SICK has made this technology affordable and easy to use! Click on the video link below to learn about the TiM1xx LiDAR sensor and how it provides: - Area scanning LiDAR technology in a standard sensor package - 200-degree field of view and 3 meter sensing range allows for 169 square feet of area scanning - Compact size and light weight enables ease of deployment in "non-standard" type applications, like end-of-arm robotic tooling - Wide area scanning without having to mount a transmitter and receiver makes installation much easier - IO Link for easy configuration