"Carbon3Ds printing technology is an order of magnitude faster than existing technologies"
REDWOOD CITY, Calif.--Carbon3D Inc., a Silicon Valley-based 3D printing company working at the intersection of hardware, software and molecular science, today announced a $100 Million funding round led by Google Ventures. The financing will support Carbon3D as it continues to develop technology and materials that will enable customers to address the fundamental limitations of conventional 3D printing as they move toward a flexible 3D manufacturing solution.

In addition to Google Ventures, the round includes new investors Yuri Milner, Reinet Fund S.C.A., F.I.S. and others. All existing Series A and B investors including Sequoia Capital, Silver Lake Kraftwerk and Northgate Capital also participated. The Autodesk Spark Investment Funds $10 Million investment in the company, which was announced in April 2015, was converted to equity during this round.
Carbon3D recently introduced its Continuous Liquid Interface Production technology (CLIP), which promises to advance the industry beyond basic prototyping. CLIP uses a tuneable photochemical process instead of the traditional mechanical approach, which eliminates the shortcomings of conventional layer-by-layer 3D printing technology, to rapidly transform 3D models into final parts in a range of engineering-grade materials. Key early customers from targeted industries including automotive, consumer electronics, aerospace, athletic apparel and industrial products have already been working with Carbon3Ds CLIP technology and providing real world customer feedback to help refine the technology and performance ahead of its commercial availability.
"We are excited to have closed this round of financing with such incredible partners who will help us deliver on our vision," said Joseph M. DeSimone, CEO and Co-Founder of Carbon3D. "Together we have a tremendous opportunity to enable a renaissance in manufacturing."
"Carbon3Ds printing technology is an order of magnitude faster than existing technologies," said Andy Wheeler, General Partner at Google Ventures. "Carbon3Ds technology has the potential to dramatically expand the 3D printing market beyond where it stands today and reshape the manufacturing landscape."
"I am very impressed by the Carbon3D team and their innovative technology," said Yuri Milner, entrepreneur and venture capitalist. "I am looking forward to supporting their quest to enable a digital revolution in manufacturing."
"After evaluating Carbon3Ds CLIP technology, we believe it is a game-changer for complex manufacturing across many global market segments," said Anton Rupert on behalf of Reinet. "We are thrilled to partner with Carbon3D to help transform manufacturing and distributed fabrication the world over."
To learn more about Carbon3Ds CLIP Technology please visit Carbon3D.com or connect with Carbon3D on Twitter @carbon3d
About Carbon3D
Carbon3D, a Silicon Valley based company, was founded in 2013 in Chapel Hill, NC. Working at the intersection of hardware, software and molecular science, Carbon3D is delivering on the promise of 3D printing, allowing commercial customers to go beyond basic prototyping to achieve 3D manufacturing. The Continuous Liquid Interface Production technology (CLIP) was introduced simultaneously at TED 2015 and to the scientific community on the cover of Science Magazine (Science, March 2015). To date Carbon3D has received $141 Million in funding. For more information please visit Carbon3D.com
Featured Product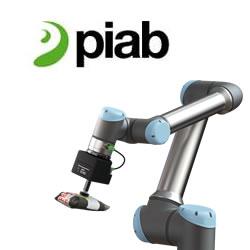 Piab's Kenos KCS gripper enables a collaborative robot to handle just about anything at any time. Combining Piab's proprietary air-driven COAX vacuum technology with an easily replaceable technical foam that molds itself around any surface or shape, the gripper can be used to safely grip, lift and handle any object. Standard interface (ISO) adapters enable the whole unit to be attached to any cobot type on the market with a body made in a lightweight 3D printed material. Approved by Universal Robots as a UR+ end effector.