Guardian S Robot, the Ultimate Unmanned Ground Vehicle for Security, Inspection and Non-Destructive Testing, to be Made Available in a Robot-as-a-Service (RaaS) Offering
SALT LAKE CITY and BELLEVUE, Wash., Aug. 25, 2015 -- Sarcos Corp., a global leader in advanced robotic systems, announced today it will unveil its "Guardian S" snake robot, a first-of-its-kind robotic unmanned ground vehicle (UGV), at the National Tactical Officers Association Conference on August 30 in Salt Lake City.

The Guardian S is the first-ever commercially available energetically autonomous snake robot, and is the culmination of years of research and in-field trials and is protected by more than 50 issued patents. It is the newest addition to the Sarcos Guardian robot product line, and is designed for use in a wide range of industries including public safety, security, disaster recovery, infrastructure inspection, aerospace, maritime, oil and gas, and mining. The Guardian S is expected to be available commercially in late Fall of this year.
"Today's announcement further reinforces Sarcos' position as the world's leader in human-operated dexterous robots for unpredictable and unstructured environments," said Sarcos Co-Founder and Chairman Ben Wolff. "Our commercially available robotic products, and those in development, will save lives, prevent injuries and mitigate risk as they are deployed to perform some of the world's most dangerous and difficult tasks."
The Guardian S weighs less than 8 pounds and has up to 16 hours of battery life. It can carry a full suite of sensors and facilitates two-way real-time video and voice communications. The groundbreaking robot is intuitive to use and can be tele-operated from miles away to reliably traverse challenging terrain including climbing stairs or passing through narrow culverts and pipes. It can also scale the inside and outside of storage tanks, pipes, maritime vessels, vehicles and other vertical surfaces.
Sarcos will make the Guardian S available pursuant to an innovative Robot-as-a-Service (RaaS) offering, with Sarcos providing free maintenance and upgrades to the robot. Pricing for the service starts at US$1,500 per month, making the robot substantially more economical than any other UGV with similar capabilities. Due to restrictions imposed by the International Traffic in Arms Regulations (ITAR), the Guardian S may only be supplied to companies and government agencies located within the United States, unless prior approval has been secured from the United States Department of State.
ABOUT SARCOS
Sarcos Corp. is a global leader in dexterous, tele-operated robots for use in unpredictable and unstructured environments. Leveraging more than 25 years of research and development, Sarcos provides revolutionary robotics systems designed to improve safety and security in the public safety, physical security, non-destructive testing (NDT), construction, mining, transportation, energy and defense industries. The Sarcos team has developed products that can be found in a wide variety of applications, ranging from the robotic pirates and dinosaurs at theme parks worldwide to the first-of-its-kind XOS-2 exoskeleton, Guardian S snake robot and Guardian GT Big Arm robot. Time Magazine named Sarcos' XOS-2 Iron Man-like exoskeleton robotic suit one of The 50 Best Inventions of 2010. Sarcos is headquartered in Salt Lake City, Utah with additional offices in the greater Seattle area.
Featured Product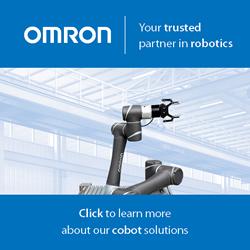 Humans and robots can now share tasks - and this new partnership is on the verge of revolutionizing the production line. Today's drivers like data-driven services, decreasing product lifetimes and the need for product differentiation are putting flexibility paramount, and no technology is better suited to meet these needs than the Omron TM Series Collaborative Robot. With force feedback, collision detection technology and an intuitive, hand-guided teaching mechanism, the TM Series cobot is designed to work in immediate proximity to a human worker and is easier than ever to train on new tasks.