Anywhere/anytime mobile app, legendary navigation and superior cleaning power distinguish new Neato Botvac Connected
Newark, CA—September 1, 2015—Neato Robotics today announced the Neato Botvac Connected robot vacuum, calling the new Wi-Fi enabled model the best cleaning robot the company has ever designed.

Botvac Connected
In addition to enhanced features that maximize the robots ability to quickly and thoroughly pick up debris on both carpet and hardwood floors, Botvac Connected can be operated right from the users Apple or Android smartphone, using an easy to use mobile app to start, stop, schedule and monitor the vacuuming run. See Botvac Connected in action here.
"Picture this: youre at work when you learn that unexpected company is on the way to your house," said Nancy Nunziati, Neatos vice president of marketing. "You grab your smartphone, access the Neato app and with a couple of taps your Neato robot immediately starts cleaning. Your floors - at least - are clean when your guests arrive."
According to Neato, Botvac Connected cleans twice the area in the same amount of time and has twice the airflow of competitors. And when cleaning carpet, Neato picks up 50% more fine dust and cleans four times closer to walls.
"Add to this our unique laser-guided navigation and the ability to vacuum your home right from your smartphone and its easy to see why Botvac Connected is setting a new standard for robot vacuums," said Giacomo Marini, Neatos chairman and chief executive officer.
The new Botvac Connected features:
* Anytime/anywhere vacuuming: When Botvac Connected is paired with a home Wi-Fi network and the Neato app, users can remotely set up a regular vacuuming schedule, start a full house or spot clean, stop or pause the robot and get instant notifications about the status of the vacuuming run.
* Remote control from the Neato app: Users can direct the robots vacuuming path right from the Neato app when connected to the home network, moving Botvac Connected to clean wherever the user chooses.
* High capacity Lithium Ion battery: Improves the robot vacuuming experience with increased run times and a longer life span than a conventional battery.
* Two new cleaning modes: Users can choose between Eco Mode for a longer, quieter energy saving clean, or Turbo Mode for super-powered cleaning, with maximum pick up. Eco Mode will clean for up to 120 minutes while Turbo Mode has a run time of up to 90 minutes.
* Ultra performance filter: Botvac Connected features a new filter that captures up to twice the small particles (0.3 microns) compared to competitors. A new filter design makes it easy to pop out when emptying the dirt bin, and a new mesh screen keeps dirt from accumulating on the filter, making it easier to clean.
All Neato robots use the companys patented Neato Botvision technology that combines laser scanning, continuous room mapping and real time object detection to plan the most efficient course to clean a home. This means Neato alters its navigation instantly when a new obstacle enters its path. It can work in the dark, moves from room to room, and knows when to return to its base for recharging — and then automatically goes back to the exact spot where it left off to finish the job. Unlike round robot vacuums that randomly bounce around a room, Neato moves in a methodical, straight-line path.
Neatos advanced SpinFlow Power Clean system combines powerful suction and precision brushes to clean all types of floors. Neatos unique D-shape and patented CornerClever™ technology means Neato moves deftly into corners. With the largest brushes and dirt bins on the market, Neato covers more square footage and picks up more debris than any other robot vacuum.
Botvac Connected is part of the well-regarded Neato Botvac Series of robot vacuums. Along with the popular Neato XV Series, the robots are available at all major online and brick and mortar retail partners. Botvac Connected will be available starting in the fourth quarter of 2015, with a suggested retail price of $699.
About Neato Robotics
Neato Robotics creates robots smart enough to perform household chores as intelligently and efficiently as a human. Neato products improve consumers lives, allowing them to spend less time cleaning and more time with family and friends. Neato is driving innovation with intelligent navigation, smart home connectivity and superior cleaning technologies. For more information, visit: https://www.neatorobotics.com/
For product photos, videos and logos go to: https://www.neatorobotics.com/company/press-releases/
Check out our videos: http://www.youtube.com/neatorobotics
Follow us on Facebook: https://www.facebook.com/neatorobotics
Keep up with the latest on Twitter: @neatorobotics
Featured Product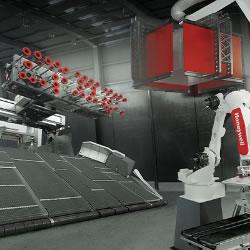 Honeywell Intelligrated is recognized by the Robotic Industries Association (RIA) as a Certified Robot Integrator, with more than a quarter-century of experience providing single-source robotic solutions for high-performance distribution and manufacturing operations. From system concepting, simulation, fabrication and integration to installation and commissioning, training and ongoing support, each solution is approached with a comprehensive lifecycle view to maximize the value of your system.