Miniaturization and portability of imaging equipment is a major growth driver in the medical imaging market.
WOBURN, MA, SEPTEMBER 4, 2015 -- For more than two decades, BitFlow has offered innovative frame grabbers to the medical imaging industry to help acquire high quality video within the human body for the diagnosis of pathological changes and to precisely target therapeutic procedures. BitFlow frame grabbers are widely deployed in x-rays, ultrasounds, endoscopes, intraoral cameras, and surgical microscopes to transfer complex, high-resolution color images and video in real-time with absolute precision.

Today, with the advent of the high-speed CoaXPress interface, BitFlow is bringing a new generation of frame grabbers to the $32 billion medical imaging market with its Cyton-CXP frame grabber. Capable of delivering Camera Link type data at GigE type distances up to 135 meters, it transfers data at a blazing 6.25Gb/S and triggers at 20 Megabits per second -- all over a single piece of 75 Ohm coaxial cable. Additionally, 13W power can be transmitted to a camera along the cable, eliminating the need for electrical wiring. Another plus: Engineers leveraging the Cyton-CXP can easily repurpose the existing coaxial infrastructure in the imaging system, resulting in lower installation costs, reduced complexity and improved utilization.
Miniaturization and portability of imaging equipment is a major growth driver in the medical imaging market. Thanks to its compact, low-profile dimensions, the Cyton-CXP is the ideal solution for meeting these design goals. Cyton-CXP frame grabbers are CoaXPress 1.1 compliant. They support one to four CXP cameras, as well as up to four CXP multi-links. Other features include:
* Half-Size x8 PCI Gen 2.0 Express Board
* CoaXPress 1.1 compliant
* Supports one to four CXP-6 cameras
* Supports multi-link CXP-6 cameras (up to four CXP links)
* Supports CXP speeds from 1.250 to 6.250 Gb/S
* Supports simultaneous capture from four 6.250 Gb/S CXP links
* Provides one CXP-6 uplink to the camera (bulk data uploads, zero latency triggers)
* Low speed uplink also supported on all links
* Uses DIN 1.0/2.3 connectors.
Adding the new Cyton-CXP to a medical imaging application is simplified by the BitFlow SDK (software development kit) that supports both 32-bit and 64-bit operating systems. Imaging applications are developed using C/ C++/.NET and BitFlow's sophisticated buffer management APIs. In addition, Cyton-CXP models are software compatible with each other, as well as with all the other current BitFlow frame grabbers. This makes migrating applications from Camera Link or analog to CXP simple.
For more information, please call 781-932-2900 or visit www.bitflow.com.
Follow us on Twitter
Like us on Facebook
About BitFlow
BitFlow has been developing reliable, high-performance Frame Grabbers for use in imaging applications since 1993. BitFlow is the leader in Camera Link frame grabbers, building the fastest frame grabbers in the world, with the highest camera/frame grabber densities, triggering performance, and price. With thousands of boards installed throughout the world, into hundreds of imaging applications, BitFlow is dedicated to using this knowledge and experience to provide customers with the best possible image acquisition and application development solutions. BitFlow, located in Woburn, MA, has distributors and resellers located all over the world including Asia, the Americas, and Europe. Visit our website at www.bitflow.com.
Featured Product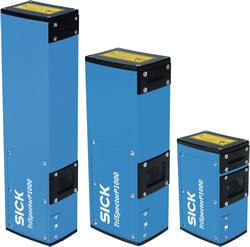 LiDAR (Light Detection and Ranging) is one of the most reliable methods for parts sensing in factory automation today. SICK has made this technology affordable and easy to use! Click on the video link below to learn about the TiM1xx LiDAR sensor and how it provides: - Area scanning LiDAR technology in a standard sensor package - 200-degree field of view and 3 meter sensing range allows for 169 square feet of area scanning - Compact size and light weight enables ease of deployment in "non-standard" type applications, like end-of-arm robotic tooling - Wide area scanning without having to mount a transmitter and receiver makes installation much easier - IO Link for easy configuration