Over 50 delegates from 8 countries visit 20 Bay Area companies
Cincinnati, Ohio — September 10st, 2015 — Blue Ocean Robotics ApS, a leading provider of emerging robots and automation solutions, will be leading a delegation of over 50 people on educational and inspirational tours of over 20 companies in the San Francisco Bay Area. The tours will take place Sept 21 and 22 preceding the RoboBusiness conference in San Jose. The delegation includes visitors from Australia, Denmark, Finland, Lithuania, New Zealand, Spain and The Netherlands.

"We are very excited to lead this, our largest delegation of decision makers from hospitals, long-term care facilities, municipalities, schools, research institutes, manufacturing and logistics companies," says Claus Risager, co-founder and partner of Blue Ocean Robotics ApS. "This is our third year leading delegations to the US which inspire education and builds relationships between end users and leading robotics companies."
About Blue Ocean Robotics ApS Founded in 2013, Blue Ocean Robotics ApS, is a leading provider of emerging robotic solutions and -services to improve quality-of-life, working environments and productivity - for humans. For more information please visit the companys website at www.blue-ocean-robotics.com.
About RoboBusiness RoboBusiness in the world's most influential event on business transformation through robotics innovation. Now in its 11th year, RoboBusiness is the established gathering place for leading minds in business and technology who come to identify opportunities, trends and new solutions in robotics that are driving marketplace change. For more information please visit the events website at www.robobusiness.com.
Featured Product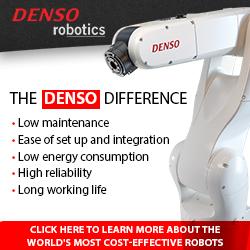 DENSO is the world's largest manufacturer - and user - of small assembly robots, employing over 17,000 of its robots in its own facilities. Over 77,000 additional DENSO robots are used by other companies worldwide. The compact, high-speed robots are used in traditional manufacturing sectors, as well as in advanced-technology applications in the medical, pharmaceutical and life sciences industries. Learn more about DENSO Robotics