The modular Triad system from Tekkra delivers rugged, dependable shrink wrapping and bundling technology at an entry-level price and breaks new ground in terms of flexibility. (Tekkra Pack Expo Booth C-3223)
HOMER, Mich. September 15, 2015

Tekkra, powered by Pro Mach, features at Pack Expo Las Vegas 2015, September 28-30, the Triad entry-level shrink wrapping and bundling system. This innovative, modular machine can accommodate one of three types of Tekkra infeed systems, each of which meets a different application need - manual-load for tray wrapping and/or bundling, powered side infeed for shrink bundling, and powered in-line for tray shrink wrapping. (Tekkra Pack Expo Booth C-3223)
The Triad is compact, rugged, and easily rolled to various locations within the customers facility. The PLC/HMI ensures user friendly, reliable operation. Modularity means that in the future the customer can purchase and bolt on a different infeed to satisfy new operational requirements - the machine grows with the customer. Modularity also means fast delivery from Tekkra and their distributors. The customer does not have to wait for a custom designed and manufactured solution.
The Triad produces bulls-eye closures, which are ideal for stabilization of trays and bundle packaging in warehouses and repack rooms in the beverage, building materials, food, industrial products, personal care, and pharmaceutical industries. When ordering a Triad unit, the customer specifies which of the three infeed systems best meets their application. The pusher option is a manual load station with palm button activation. The pusher is ideal for low-volume packing and repacking of trays and also bundling packages. The powered side infeed is designed for automatic shrink bundling. The powered inline option handles automatic tray shrink wrapping.
"The price/performance of the new Triad is exceptional in terms of ruggedness and dependability," said Eric Vorm, Vice President and General Manager of Tekkra. "Modularity provides flexibility and gives customers options for growth. The overall design means that we can quickly ship the Triad with the appropriate infeed. The Triad is a great solution for warehouse and repack rooms with low- to moderate-volume operations."
For more information on the new Triad shrink wrapping and bundling machine with the choice of three different infeed systems, call Tekkra at 800-409-5225 or visit http://www.Tekkra.com for details about the companys full line of shrink wrapping and bundling solutions. And visit Tekkra at Pack Expo, Booth C-3223.
About Tekkra
As a leading developer of shrink wrapping/bundling and integrated packaging systems, the Tekkra team is driven to provide the industrys most advanced solutions. Incorporating the latest technologies with robust design methodologies not only ensures high efficiencies, but also high reliability and minimal maintenance. Additionally, Tekkra develops turn-key solutions, incorporating bundling and shrink wrapping with collation systems, labeling, case packing, palletizing, and robotics. http://www.Tekkra.com
About Pro Mach
Pro Mach is a leading provider of integrated packaging and processing products and solutions for food, beverage, consumer goods, pharmaceutical, and other diverse companies. Through its brands, Pro Mach provides product packaging and processing equipment, PMMI certified training, installation, parts, and service in Bottling & Capping, Primary Packaging, Flexible Packaging, Material Handling, Labeling & Coding, and End of Line.
Pro Mach has a diverse customer base, from Fortune 500 companies to smaller, privately-held businesses worldwide, which depend on reliable, flexible, technologically advanced equipment and integrated solutions. Pro Mach is headquartered near Cincinnati, Ohio, with manufacturing facilities and offices throughout the United States, Canada, Mexico, and Europe. For more information about Pro Mach, visit http://www.ProMachInc.com.
Featured Product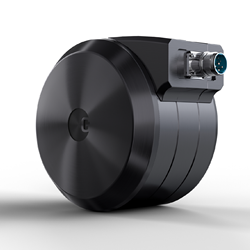 Welcome to the next generation of robotics and machinery. LiveDrive LDD is a unique direct drive motor that overcomes almost every limitation of servo geared solutions. A 50% reduction in length from typical geared motor is possible with Genesis direct drive motors. Choose to simplify machine designs and have a shorter footprint while having high performance, accuracy, and efficiency.