Datron has demonstrated the Aeryon SkyRanger with new 30x optical zoom camera payload as part of the daily waterborne demonstrations at the DSEI exhibition.
DSEI, Booth N4-320, London, UK September 17, 2015

Datron World Communications, Inc. (http://www.dtwc.com), a US-based leading supplier of military communications products, announced today the successful flight demonstrations of the Aeryon SkyRanger small unmanned aerial system (sUAS) during the opening days of the DSEI 2015 exhibition, leveraging the new 30x optical zoom camera payload to provide live video from above the waterborne presentation.
As a US-based distributor for Aeryon Labs, Inc. for over five years, Datron has delivered SkyRanger systems, training and support to numerous customers with the US DoD to date.
"Datron is a trusted and approved vendor with the US DoD for VTOL sUAS, working to ensure systems meet the demanding requirements of our customers" said Art Barter, President and CEO of Datron, "For example, weve developed our own antenna technology to provide Datrons customers much-improved RF links between the basestation and aerial platform, which ultimately provides better image quality and system reliability."
Over the past several months, Datron has also facilitated the SkyRanger integration with others to bring forward an integrated demonstration of mobile ad-hoc network (MANET) radio technology. The culmination of this integration was demonstrated successfully at the customers test range just last month, with the productized integration just announced by Aeryon at DSEI.
Datron will continue to demonstrate the SkyRanger twice daily at the waterborne presentations throughout the week, and will be showcasing their entire military communications product line at booth N4-320 during DSEI 2015 in London, UK through Friday, September 18th.
Information about Datrons full suite products can be found at http://www.dtwc.com or by contacting our worldwide sales team at sales(at)dtwc(dot)com.
Featured Product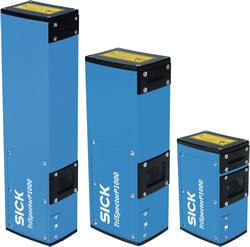 LiDAR (Light Detection and Ranging) is one of the most reliable methods for parts sensing in factory automation today. SICK has made this technology affordable and easy to use! Click on the video link below to learn about the TiM1xx LiDAR sensor and how it provides: - Area scanning LiDAR technology in a standard sensor package - 200-degree field of view and 3 meter sensing range allows for 169 square feet of area scanning - Compact size and light weight enables ease of deployment in "non-standard" type applications, like end-of-arm robotic tooling - Wide area scanning without having to mount a transmitter and receiver makes installation much easier - IO Link for easy configuration