October 20-22, 2015 in Santa Clara, California
NEW YORK, Sept. 28, 2015 -- MecklerMedia Corporation (OTCQX: MECK) revealed details for the upcoming Inside 3D Printing Startup Competition, taking place at the Santa Clara Convention Center in Santa Clara, California on October 22 during Inside 3D Printing Santa Clara.

Returning for its third year in California, Inside 3D Printing Santa Clara is California's largest annual 3D printing show with 50 exhibitors and sponsors.
Over $8 million of funding has been raised following Inside 3D Printing startup competitions in New York and California since its addition to the Inside 3D Printing agenda in 2014. Previous competition winners include: 3D Hubs (NY 2014), Wivv Wearables (CA 2014), and Osiris Biomedical (NY 2015).
The competition features presentations from companies that are pushing the frontiers of 3D printing and expanding the industry. The selected companies cover an array of offerings from services to equipment to medical applications. This year's winner will be awarded a $15,000 uncapped convertible note, courtesy of leading early-stage technology venture capital firm and Inside 3D Printing Santa Clara Startup Competition Sponsor, Asimov Ventures.
Access to the Startup Competition is free for attendees who register in advance. The competition is open to all Inside 3D Printing Santa Clara registrants and will take place on October 22 from 11:45AM - 12:30PM.
MecklerMedia has also partnered with digital art pioneer, Laurence Gartel, to host the Creative Force Design Competition at Inside 3D Printing Santa Clara. Participants have the opportunity to download and print a 3D file created by Gartel, and alter and adjust the file to create a unique work of art. The process explores the nuances of people's sensibilities, use of color, and operation of technology for the magnitude of comparison. For more information, and to download the special file to print, visit inside3dprinting.com/santa-clara.
Prices increase on September 30, so register before to save with early bird pricing. For more information and to register for Inside 3D Printing Santa Clara, visit inside3dprinting.com.
If your company is interested in sponsoring or exhibiting at Inside 3D Printing Santa Clara or an upcoming event, please contact 3dprinting.sponsors@mecklermedia.com.
About MecklerMedia
MecklerMedia (OTCQX: MECK) is the leading producer of global trade shows, conferences, and digital publications covering 3D printing, robotics, and bitcoin/blockchain. MecklerMedia produces more than 25 conferences annually, including Inside 3D Printing, Inside Bitcoins, RoboUniverse, and the 3D Print Design Show. MecklerMedia's news sites include Inside Bitcoins News, 3D Printing Industry, and 3DPrint.com, which provide up-to-date coverage to help drive business forward.
Featured Product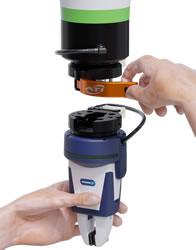 ATI Industrial Automation's MC-10 Manual Tool Changer provides a cost-effective solution for quickly changing tools by hand. Its compact yet robust design is optimized for collaborative robot applications. The ergonomic twist-collar locking mechanism ensures a secure attachment of the tool and easy manual operation with tactile feedback. This Manual Tool Changer can carry payloads of up to 22 lbs and includes multiple fail-safe features that resist vibration and prevent loosening. The MC-10 Manual Tool Changer has integrated air pass-through connections and options to connect electrical utilities if needed. ATI will feature the new MC-10 along with a variety of other robotic demonstrations and product displays at this year's IMTS show in Chicago (Booth #236417).