Cannybots, exciting interactive and engaging high-speed toy robot race cars, introduce kids to the world of robotics with a crowdfunding campaign on Kickstarter.
London, UK September 29, 2015 -- Cannybots, the programmable smart toy robots that can be controlled from a smartphone or tablet, and that get kids excited about robotics, today launched on Kickstarter.

Cannybots are smart toy robots that encourage children to play and spend time together, rather than spending their days in front of screens playing virtual games online. Cannybots teaches kids about robotics, programming, design and 3D printing while they are playing.
Children receive a construction kit for their Cannybot containing all the parts and detailed instructions to build their robot. They can then be programmed and controlled from phone, tablet, PC or a Raspberry Pi.
"Going through the building process gives kids the hands-on experience of building a functional robot that they can also program," said Anish Mampetta, CEO of Cannybots. "Programming is an essential skill today but it is not easy to get kids started. We are allowing kids to do this in a fun, interactive and rewarding way."
To introduce children to programming, the Cannybots team created a simple and intuitive app called 'CannyTalk. The app uses a syntax-free programming environment that works like a friendly chat tool. Using the app anyone can program the Cannybot using plain English. The complex Artificial Intelligence (AI) based engine behind CannyTalk is developed in association with researchers from the Computer Science department at the University of Cambridge in the UK.
"The children use programming to solve puzzles, control Cannybots on race tracks, and create new game play styles," added Mampetta. "Its an interactive, social experience that brings friends and family together."
Once built and programmed, the bots can be used in a number of play scenarios such as high speed racing, time trials, sumo-wrestling, jousting and puzzle-solving. Apps and printable tracks are available for each game. Children can also design new car bodies using free, easy to use, browser based CAD software from Cannybots partner Autodesk. The designs can then be easily 3D printed using any 3D printer at home or school.
The current version of Cannybots is already very popular and is being used in over 20 schools in the UK and Europe.
Pre-orders start as low as $89 for an early bird special and will be shipped in time for the holidays.
For more information visit http://www.cannybots.com and their Kickstarter page.
About Cannybots
Cannybots are smart toy robots that can be controlled and programmed from a phone or a tablet. This engaging toy brings kids play time away from gaming screens and back into the real world. It also introduces kids to Programming, 3D Printing and Robotics through play.
Cannybots can be used in a large number of play scenarios, such as -Racing, Sumo Wrestling, Jousting, Maze solving and other puzzle games. There is a dedicated phone app and track design for each game play. Kids can print the tracks at home or use the large format tracks that we supply. It is also possible to make a large track by printing segments of A4 sheets. The bots work by following black lines and colored marks printed on the track.
Cannybots can be programmed from a phone or tablet using a simple, intuitive app called CannyTalk. CannyTalk is a Natural Language based interface for programming the robot in plain English. It eliminates the complex Syntax found with other programming languages making it easy for kids to get started.
Cannybots designs are open source, free and 3D Printable. You can easily customize the design using free, browser based CAD software from our partner Autodesk. The customized designs can then be easily 3D printed using any 3D Printer at home or school.
Featured Product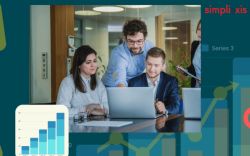 Challenges on the loading dock are characteristic of greater pressures from the rise of e-commerce. Loading and unloading freight from trailers, trucks and shipping containers are arduous, repetitive tasks plagued by high turnover. Even with regularly available staff, manually unloading freight and the constant lifting and twisting results in fatigue and inconsistent, declining productivity. Robotics capable of fully automating unloading tasks bring a new paradigm to the dock. High performance and flexibility push unloading from a labor-heavy, manual chore to an automated, refined process. High-performing DC workers can take more desirable positions, with relief from unpleasant work conditions. Management gets to replace uncertainty and staffing challenges with a reliable, automated process, with data to fuel continuous improvement.