TriTech Corporation of America, Wisconsin's choice for IT solutions, has partnered with Double Robotics to bring the Double telepresence robot to Milwaukee. This video conferencing solution gives the user a virtual presence as close as possible to being there.
Waukesha, WI September 29, 2015

Business is on the hunt for telepresence solutions.
TriTech Corporation of America, Wisconsin's leading provider of enterprise technology services, has expanded their specialized video conferencing division by partnering with Double Robotics. A technology startup based in Sunnyvale, CA, Double Robotics has developed the Double telepresence robot.
The Double combines audiovisual communication, secure remote connectivity and effortless mobility in the most innovative video conferencing solution on the market.
An iPad is secured to an adjustable-height pole, which is held up by a self-balancing pair of wheels. The iPad acts as screen, camera and speaker for the worker controlling it through the wireless network. The Double is aptly named: it serves as a remote worker's double.
Businesses across the US have already adopted the Double as the most natural video conferencing solution on the market.
By partnering with Double Robotics, TriTech Corporation has maintained their status as the leader in video conferencing services in the Milwaukee Metropolitan Area. TriTech has been working with video conferencing technology since the early aughts, when they first established their specialized service division in video-oriented business technology.
TriTech's expertise with telepresence solutions is proven by an unmatched portfolio of vendor partnerships, manufacturer authorizations and industry certifications.
Moreover, due to TriTech's single-source service provider model, video conferencing is never isolated from related concerns. With a single call, the customer has access to specialized divisions covering the full range of business technology. This combination of expertise and simplicity means TriTech has grown with its community to become the most trusted IT company in the Greater Milwaukee Area.
Contact TriTech at (262) 717-0037 or toll-free at (800) 891-3388 or email TriTech at service (at) tritechcoa (dot) com to learn more about the Double Robotics telepresence robot, the best video conferencing solution for remote workers.
About TriTech Corporation:
TriTech Corporation is Wisconsin's source for integrated information technology services. Founded in 1993, we focus on helping local businesses increase productivity and reduce overall expenses through using the right technology. Our certified technicians bring years of experience and proven accountability to every project. We believe that providing integrated services is the best way to save you time and money. It's simple and stress free. We take the guesswork out of IT, because we do it all.
Featured Product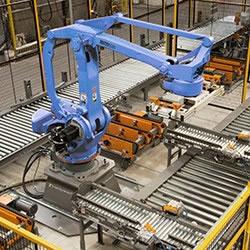 Honeywell Intelligrated has deep experience implementing robotic solutions that work seamlessly with existing automated equipment and is recognized by the Robotic Industries Association as a certified robot integrator. The company's extensive robotic integration capabilities include solution development, design engineering and project management, complete manufacturing capabilities, installation and commissioning, and lifecycle support services.