120 exhibitors and over 1500 attendees are expected at SPAR Point Groups First Annual Drone Expo & Conference
Portland, Maine October 05, 2015 -- Commercial UAV Expo opens today at Caesars Palace in Las Vegas. The expo and conference will have 120 exhibitors, more than any commercial drone show in the market. Over 1,500 attendees are expected, including many large enterprise technology leaders from key growth sectors for UAS integration including: Surveying & Mapping; Civil Infrastructure; Mining; Construction; Process, Power & Utilities; Precision Agriculture; Law Enforcement, Security and Search & Rescue (SAR). The event runs through Wednesday, October 7.

"The response to Commercial UAV Expo has been incredible," said Lisa Murray, Commercial UAV Expo Director. "Large-enterprise asset owners integrating or expanding their drone programs have very specific needs for education and solutions. They are thrilled that our Conference Program was developed with them in mind, and that exhibitors have the products and services to meet their specific requirements."
Each of the seven industries Commercial UAV Expo covers has a dedicated track. The program also has plenary sessions that address important issues that transcend industry, like systems selection and integration, applications, workflows, data management, insurance, safety, and legal and regulatory considerations. Keynotes will be delivered by Dyan Gibbens, CEO and Founder of Trumbull Unmanned, whose presentation is entitled "UAVs: A vision for Global Asset Owners," and Dr. Patrick Meier, Founder of the Humanitarian UAV Network, whose presentation is "Humanitarian in the Sky: Drones for Disaster Response."
Additional features include:
Pre-conference Product Previews - Exhibitor Presentations
Monday, October 5th, 1:00pm - 5:30pm | Milano Rooms
Welcome Happy Hour & Networking, sponsored by 3DR
Monday October 5th, 5:30pm - 6:30pm | Exhibit Hall
"Escape to Margaritaville Reception," sponsored by AeroVironment and Trimble
Tuesday, October 6th, 6:30pm - 8:30pm | Margaritaville
Drone Demo Cage, sponsored by Multicopter Warehouse
Tuesday October 6th - Wednesday October 7th | Exhibit Floor
"Women in Drones" Networking Luncheon
Wednesday, October 7, 12:30pm - 1:45pm | Neopolitan 2, Caesars Palace
"Commercial UAV Expo is a one-stop shop for large-enterprise UAV professionals," said Ms. Murray. "Attendees will access the education, products and connections they need to help them navigate this rapidly advancing technology. What they learn at this conference could, quite possibly, change the way they do business."
For more information on specific event features, visit:
* Conference Program
* Keynotes
* Presenter List
* Exhibitor List
* Participating Organizations
Registration is still available online. Attendees are encouraged to register in advance to avoid lines onsite
About Commercial UAV Expo
Commercial UAV Expo is a conference and exhibition exclusively focused on the commercial sUAS (small Unmanned Aerial Systems) for large enterprise asset owners in North America. Focused vertical markets include: Surveying & Mapping; Civil Infrastructure; Mining; Construction; Process, Power & Utilities; Precision Agriculture; Law Enforcement, Security and Search & Rescue (SAR). Registration is available online now. It will take place October 5-7, 2015 at Caesars Palace in Las Vegas. For more information, visit expouav.com.
Featured Product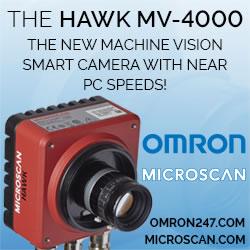 Awe-inspiring power and superior flexibility is sheathed within the contoured casing of the HAWK MV-4000. This smart camera builds upon the previous generation by quadrupling processing power and achieving real-time trigger response using an FPGA. Its state-of-the-art algorithms make it an excellent tool for any industry, whether the requirement be code reading, code verification, inspection, guidance, gauging or a combination of all four.