The two companies are joining forces to eliminate the workflow and product barriers that prevent creative professionals from easily transforming their designs into vibrant and durable color 3D printed models.
Minneapolis & Rehovot, Israel - Oct. 6, 2015 - Stratasys Ltd. (Nasdaq:SSYS), the 3D printing and additive manufacturing solutions company, today announced that they are partnering with Adobe to bring high quality, color 3D printing to creatives around the world. The announcement was made today in Los Angeles at Adobe MAX.

The two companies are joining forces to eliminate the workflow and product barriers that prevent creative professionals from easily transforming their designs into vibrant and durable color 3D printed models. As the first step of this vision, starting immediately, Adobe Photoshop CC users will be able to send 3D files for production through Stratasys Direct Express. This connection is done directly from the native Photoshop CC environment, increasing ease of use by enabling a streamlined workflow with features such as direct quoting, validation and previewing.
Stratasys Direct Express is a self-service website that makes it easy for anyone to take advantage of 3D printing by simply uploading files, instantly submitting an order, and receiving parts within days. Stratasys Direct Express is powered by Stratasys Direct Manufacturing, one of the world's largest providers of advanced manufacturing services, combining the latest additive and conventional manufacturing technologies with decades of practical experience.
"Stratasys is poised to help product designers, artists, engineers and makers push the boundaries of color 3D printing. Partnering with Adobe is a major step in achieving this goal," said Dan Yalon, executive vice president, business development, marketing and vertical solutions, Stratasys. "We are confident that together we will introduce more creative professionals to the world of additive manufacturing and provide them with all the tools they need to effortlessly turn their visions into colorful, beautiful reality."
Experience Stratasys Color 3D Printing at Adobe MAX
Stratasys is demonstrating its commitment to this vision as a Gold Sponsor at Adobe MAX 2015. Included on display at the Stratasys booth will be spectacular works of art from world-renowned artists and designers that showcase the innovative color capabilities, superior quality, geometric freedom, smooth surface textures, and endless possibilities that come with Stratasys 3D Printing.
Three Stratasys users - Jason Lopes from the Hollywood special effects company, Legacy Effects; influential artist Nick Ervinck; and Shajay Booshan, head of computation and design at leading architecture and design firm, Zaha Hadid Architects - will be presenting their breakthrough applications of Stratasys color 3D printing at this year's event. Adobe MAX attendees will also be able to meet these presenters at the Stratasys booth in the Community Pavilion.
In addition, attendees are invited to visit the Stratasys booth for an exclusive sneak peek at a color 3D printing design software being created by Stratasys and Adobe, and to compete in a design challenge to win one of two daily awards of $1,000 toward 3D printing services at Stratasys Direct Express.
"Adobe and Stratasys share a common vision: to provide our users with the ultimate color 3D printing experience and enable them to create amazing things no one ever dreamed of before," said Adil Munshi, VP and General manager Print and Publishing BU, Adobe. "We are excited to be working together with Stratasys to help users unleash the full potential of color 3D printing."
For more information about the joint Stratasys-Adobe solution, please visit pages.stratasysdirect.com/adobe. For more information about Photoshop CC, please visit www.adobe.com/photoshop
Featured Product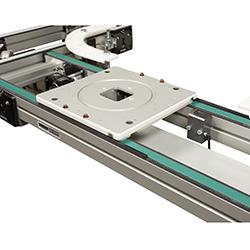 Dorner's 2200 Series Precision Move Pallet Systems are ideal for assembly automation. With features such as an innovative timing belt conveyor design and industry best pallet transfers, they get your product to the exact location, at the exact time and in the exact position it needs to be. They are now available with new options such as heavy load corner modules with 150 lb. capacity and 180 degree tight transfer corners for compact loops.