ULC's Robotic Technology for the Repair and Rehabilitation of Cast Iron Gas Mains is Recognized as a Leading Robotics System in Construction, Mining and Energy by Robotics Business Review
Hauppauge, NY October 08, 2015 -- ULC Robotics, Inc. was recognized by Robotics Business Review as a Game Changer Award winner in the Construction, Mining and Energy category for the company's innovative CISBOT (Cast Iron Joint Sealing Robot) Robotic System. The award recognizes CISBOT for its ability to efficiently rehabilitate large diameter cast iron gas mains with minimal excavation, minimal disruption to the public and without the need to disrupt gas service to local residents and businesses.

ULC is honored and excited to be recognized as one of Robotics Business Review's Game Changer Award winners," said Gregory Penza, president and CEO, ULC Robotics, Inc. "With the support of our customers we have been able to make CISBOT a successful commercial operation and we will continue to develop game changing robotic systems to aid in solving difficult operational and environmental challenges facing the natural gas and energy industries."
CISBOT operates underground through one small excavation to repair and reinforce joints in cast iron pipelines. CISBOT is revolutionizing the way gas utilities in the US and UK are maintaining these vital assets. The robotic system's small site footprint and ability to work with virtually no excavation nearly eliminates the public disruption often associated with traditional pipeline repair or replacement. Residential and business gas customers appreciate CISBOT because gas service remains turned on during the procedure.
CISBOT was chosen as a Game Changer by a panel consisting of Robotics Business Review and Robotics Trends editors as well as by distinguished experts from the International Journal of Advanced Robotics Systems (IJARS). Products were judged based on standout attributes, design, functionality, impact and overall benefit to the robotics industry.
To view CISBOT's Game Changer Award submission and see all Game Changer Award winners please visit http://www.roboticsbusinessreview.com
About ULC Robotics, Inc.
ULC Robotics, Inc. is a leader in developing and deploying innovative technology and processes that help pipeline operators and energy companies repair, inspect and assess their infrastructure. The deployment of ULC Robotics' range of products and services helps to eliminate costly and disruptive excavation while eliminating gas leaks, reducing greenhouse gas emissions and improving efficiency. Both ULC Robotics and their clients have shared accolades for developing some of the most innovative products in the energy industry. For more information on ULC Robotics, Inc. and its products and services please visit http://www.ulcrobotics.com
Featured Product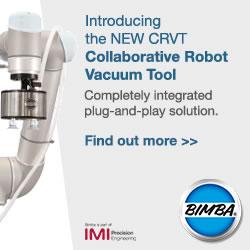 The NEW Collaborative Robot Vacuum Tool (CRVT) from Bimba adds unparalleled flexibility to your collaborative robot. The standard CRVT is highly configurable to meet your application needs, but simple to install and operate. This fully integrated tool means all you need to supply is compressed air and a signal to control the valve. A variety of standard and custom options make the Bimba CRVT the perfect tool for your next collaborative robot project.