Dual-core Servo Drive MPU includes a 600MHz Real-Time CPU and the R-IN Engine with Real-Time Network Connectivity
SANTA CLARA, Calif.--RENESAS DEVCON — Renesas Electronics America, a premier provider of advanced semiconductor solutions, today announced the release of a new reference solution focused on high-performance, real-time motion control applications equipped with the Renesas RZ/T1 microprocessor (MPU). The new Renesas RZ/T1 motion controller reference kit delivers a complete hardware/software solution to help simplify embedded development for industrial servo drives and controllers, industrial robotic systems, factory equipment, and other machine tools that require high speed, responsiveness, and excellent real-time performance.

"One of the biggest challenges in the motion control field is to integrate the electronics with the motor, and have the ability to validate algorithms. Tools like the RZ/T1 reference kit remove many of the design complexity pain points by providing designers with a complete hardware and software solution that also supports different servo motor sizes and encoders, significantly simplifying their development," said Vin DAgostino, Vice President, General Purpose Products Unit, Renesas Electronics America.
Integrated Hardware / Software Solution for the Industrial IoT
The motion control reference kit is a complete hardware/software solution for the Renesas RZ/T1 MPU. It delivers class-leading processing power and real-time architecture to run tighter control loops, network connectivity to support deterministic communication, and high-speed encoder interface - effectively serving as connected servo solution on a single chip. The new kit includes an RZ/T1 CPU card, and a dual channel 3-phase inverter to support dual channel servo motor control with current and position feedback. The kit also supports incremental and absolute encoder over EnDat or BiSS protocols. All this reduces the bill of materials (BOM) costs and eliminates the need for more costly FPGAs.
Easing the Design Process
Setting up the timing to close the current and positon control loops is complicated. To simplify the evaluation and testing process for industrial developers, the RZ/T1 reference kit integrates software algorithms including Field Oriented Control, position control loop, and a velocity profile generator. This provides a pre-tested example that allows customers to quickly evaluate the performance of the chip.
Connecting the Industrial Environments
Connectivity plays a key role as Industry 4.0 connects machines, products, and systems within an industrial environment. The RZ/T1 reference kit features multi-protocol and interface support, including built-in RS422, RS232, CAN, USB, and TTL UART. The RZ/T1 includes the industry-tested R-IN Engine network subsystem with hardware accelerators built-in to improve throughput and reduce task switching latency. The R-IN Engine also includes EtherCAT on-chip, and a hardware switch that can support other industrial protocols such as Ethernet/IP and PROFINET IO.
The RZ/T1 Motion Controller Reference kit will be one of several Renesas solutions showcased at Renesas Devcon 2015, October 12-15, 2015, in Anaheim, Calif. The solution demo will highlight precise motion of a dual-axis servo application served by a single Renesas RZ/T1 device.
Pricing and Availability
The RZ/T1 motion control reference kit will be available beginning December 2015. Pricing for the complete solution will begin at US$695.00. (Pricing and availability are subject to change without notice.)
For more details on the Renesas RZ/T MPUs, see http://am.renesas.com/products/mpumcu/rz/rzt/index.jsp. For more information on Renesas, follow Renesas Electronics America at @RenesasAmerica on Twitter and http://www.facebook.com/RenesasAmerica.
About Renesas Electronics America Inc.
Renesas Electronics America Inc., headquartered in Santa Clara, California, is a wholly owned subsidiary of Renesas Electronics Corporation (TSE: 6723), the world's number one supplier of microcontrollers and a premier supplier of advanced semiconductor solutions including microcontrollers, SoC solutions, and a broad range of analog and power devices. More information about the products offered by Renesas Electronics America can be found at http://am.renesas.com.
Featured Product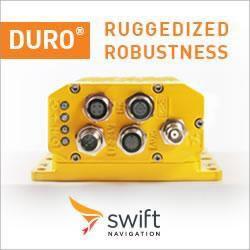 Duro® and Duro Inertial are enclosed dual-frequency RTK GNSS receivers. Designed and built to survive long-term, outdoor deployments, the easy-to-deploy Duro and Duro Inertial combine centimeter-accurate positioning with military ruggedness at a breakthrough price. Duro Inertial features an integrated IMU for continuous centimeter-accurate positioning in the harshest of outdoor deployments.