Collaborates With University of Waterloo
TORONTO, October 15, 2015 -- Great Rock Development Corp. (OTC: GROC) is pleased to announce the Canadian Natural Sciences and Engineering Research Council (the Canadian counterpart of NIST in the United States) has announced the approval of an advanced research grant for its wholly owned subsidiary Cyberworks Robotics Inc.

The grant will fund a scientific collaboration between the University of Waterloo and Cyberworks for the development of advanced autonomous path planning technology and will apply the results of past research on planetary rover technologies as well as new areas of mathematics to non-Boustrophedon Path Planning for Cyberworks' next generation of autonomous navigation guidance systems.
"We are all delighted with the approval and continued confidence in our team. This represents a leading-edge collaboration between two World-class entities," said Vivek Burhanpurkar, President of Cyberworks.
The technology, which replaces inefficient linear path trajectories which are used by conventional mobile robots, with more efficient curvilinear fluidic trajectories, significantly reduces time and energy demands on autonomous robots and will allow Cyberworks to extend its technological competitive advantage in industries ranging initially from robotic mobility aids for quadriplegics to unmanned industrial floor scrubbers. The professional floor care industry in the US alone is estimated at $25 billion annually, where labor accounts for roughly 50% of operating costs.
Mr. Burhanpurkar further commented, "These research grants are exceptionally difficult to come by. This is yet another validation of the leadership position of Cyberworks within the global research community."
Management expects to make further updates on this exciting collaboration as well as other developments in the near future.
Driven by Vision - About Great Rock / Cyberworks
Great Rock Development is a publicly traded developer of Robotics and autonomous navigation guidance systems. Through its wholly owned subsidiary Cyberworks Robotics, it is the world's oldest Autonomous Mobile Robotics Company. Its Mission is to leverage its technology to allow for the ubiquitous deployment of autonomous robotics in society. Our technology provides low-cost, high resolution machine vision based navigation technology for third party OEM products.
http://www.GreatRockDev.com, http://www.CyberworksRobotics.com
Featured Product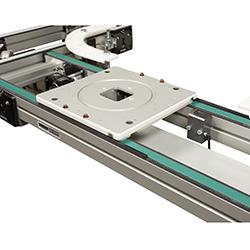 Dorner's 2200 Series Precision Move Pallet Systems are ideal for assembly automation. With features such as an innovative timing belt conveyor design and industry best pallet transfers, they get your product to the exact location, at the exact time and in the exact position it needs to be. They are now available with new options such as heavy load corner modules with 150 lb. capacity and 180 degree tight transfer corners for compact loops.