The inflatable manipulator arms will be designed as a payload for AUVs.
PITTSBURGH, PA - October 28, 2015 - RE2, Inc., a leading developer of robotic manipulator arms, announced today that the Company has received a Phase I Small Business Innovation Research (SBIR) grant to design Inflatable Underwater Manipulator arms for the US Navy's Office of Naval Research (ONR).

During the Phase I program, RE2 will design a light-weight inflatable underwater manipulation system for Autonomous Underwater Vehicles (AUV). The inflatable manipulator arms will be designed as a payload for AUVs. Ultimately, the manipulator arms will be used as a collaborative robotic system to assist Explosive Ordnance Disposal (EOD) divers in dismantling Waterborne Improvised Explosive Devices (WIEDs) and other hazards.
EOD divers are often placed in harm's way while performing underwater location and identification of ordnance on ships, waterways, and underwater structures. The deployment of a cost-effective and reliable manipulation system on an AUV promises to bring the stand-off capabilities that robotic and autonomous systems have brought to EOD technicians operating on land to those operating underwater.
"Our talented engineering team has extensive experience designing and developing robotic arms for EOD robots," stated Jorgen Pedersen, president and CEO of RE2. "Underwater is our next frontier and we are honored that the Navy has entrusted RE2 with the design of this new inflatable robotic manipulation system."
This program is RE2's second contract with ONR this year to develop underwater manipulator arms. RE2 is also developing an Underwater Dexterous Manipulation System for Explosive Ordnance Disposal Applications.
Featured Product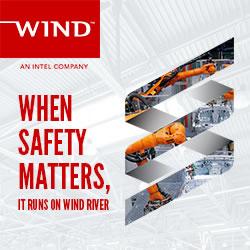 When it comes to ensuring the development of can't-fail systems, Wind River® is a leader with a proven track record of success. With more than 30 years of experience in embedded software and a portfolio of products deployed across more than 2 billion devices, Wind River delivers safety and security when it counts most. From industrial automation to automotive systems, as well as in healthcare devices, railway operations, and throughout the aerospace and defense sector, Wind River has extensive expertise providing built-in safety for complex, connected, safety-critical systems.