New for 2015 highlights at the Minneapolis-based event include a chance to meet IBM's Watson, a robotics expert from Disney Imagineering, more robotics demos, drone flying lessons, a competition for investment dollars, a robot parade, and more.
Minneapolis, Minn. November 05, 2015 -- The future of robotics will once again be showcased at this years 5th Annual Robotics Alley Conference & Expo, including a series of keynotes that demonstrate how the technology is advancing industries as varied as health care, entertainment, government, finance and retail. The event will be held Dec. 1-2 at the Hyatt Regency Minneapolis.

Featured speakers include:
* Martin Buehler, Executive R&D Imagineer at Walt Disney Imagineering
* Rob High, CTO of Watson Solutions at IBM Corporation
* Nathan Harding, co-founder & CEO of Ekso Bionics.
In addition, there will be industry-specific breakout sessions on Health Care & Medical Devices; Manufacturing & Commercial Applications; Agriculture & Natural Resources; Legal, Business & Investment; Security, Defense & Transportation; and Engineering.
Other 2015 Robotics Alley highlights include:
Watson Demo
Watson is IBMs cognitive computing system thats built to learn like humans learn. It understands natural language and can work with humans. Representatives from IBM will be in the Expo Hall demonstrating Watson to show attendees.
Robotic Surgery Demo
Stryker Orthopaedics will demonstrate simulated knee and hip replacement surgeries performed with robotic precision by Stryker devices. Come to see how Stryker is addressing the needs of an aging population and patients with traumatic extremity injuries.
Drone Simulation & Flying Demonstrations
View demonstrations of a variety of drones in flight, learn how to pilot a small unmanned vehicle on a simulator and try flying a real drone in the Expo Hall thanks to MAV Meetup (Minnesota Autonomous Vehicle Meetup). Representatives from Maverick Drone Systems will be on hand to demonstrate the most advanced drones available today.
"Invest in Innovation" Competition
In this new head-to-head contest, three entrepreneurs will compete to convince a panel of venture capitalist judges to select their plan. This challenge is an opportunity that can launch a new tech business and set it on the road to success. The winning company will advance to the due diligence stage, where they may gain working capital. Attendees are invited to watch and participate in the Q&A sessions that will follow each presentation.
March of the Robots
Fascinated by robots? Mystified at their capabilities? Want to see how theyre helping human teammates to become more effective and efficient in manufacturing, security and even medicine? To witness their uniquely useful abilities, be sure to attend this unique spectacle. Its a conga line made up of leading cyborg characters. Theyll be interacting with people, showing off their advanced skills and strutting their stuff.
Stacker, the new, affordable 3-D printer
STACKER will be showcasing their revolutionary new, affordable, commercial-grade 3D printer. It can print up to four parts at a time employing filaments such as high-tech alloys, Kevlar, wood, bronze, copper, brass and bamboo. This versatile device is durable enough to perform all-day factory jobs and safe for offices and schools. Stacker comes in desktop and mobile configurations.
STEM Showcase
See what the next generation of roboticists is working on and learn how student competitions embrace excellence for tomorrows workforce. This area features student-built robots with demonstrations from FIRST Robotics, FIRST Tech Challenge, FIRST LEGO League, and other robotics teams.
FREE Career Fair
Join us on Day 2 of the Robotics Alley Conference & Expo for two consecutive workshop sessions designed to connect aspiring high-tech workers with industry pros. Experts say networking results in 85% of job offers in the economy. Meet to get useful insights from robotics industry experts at companies looking to hire. Prospective employers will be on hand to meet job seekers. Presented by the Minnesota Department of Employment and Economic Development and MinnesotaWorks.net.
Attendance at the annual event will include hundreds of industry leaders, business people, media, investors, academics and policy professionals excited to see the latest technological advances. The 2015 Robotics Alley Conference and Expo is December 1-2 at the Hyatt Regency Minneapolis. Tickets are $499 for general admission. Discounts are available for government employees, academics, as well as engineers. For information regarding group pricing, contact (763) 548-1313.
For more information contact Mike Davin at (763) 548-1305 or Mike(dot)Davin(at)eventshows(dot)com.
The Robotics Alley Conference & Expo is an annual gathering in Minnesotas Twin Cities that is on pace to become one of the worlds leading conferences on robotics and automation. The event began in Minneapolis in 2011 as an industry-led initiative to spotlight the rapid growth of robotics and automation both globally and in the Midwest. It sought to bring together businesses, researchers, engineers, investors and others to help catalyze the fast-emerging robotics industry in Minnesota and the surrounding region. Since that time, it has grown to attract attendees from across the U.S. and the world. The event features discussion of leading-edge technological developments, world-class speakers and hands-on demos. This years event will take place December 1-2 at the Hyatt Regency Minneapolis. For more information and to register, go to roboticsalley.org.
Featured Product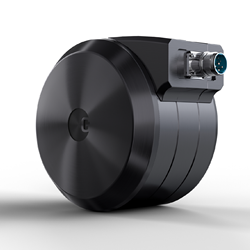 Welcome to the next generation of robotics and machinery. LiveDrive LDD is a unique direct drive motor that overcomes almost every limitation of servo geared solutions. A 50% reduction in length from typical geared motor is possible with Genesis direct drive motors. Choose to simplify machine designs and have a shorter footprint while having high performance, accuracy, and efficiency.