Wink's hardware empowers users to be creative; once the basics of code are well understood, the possibilities are almost endless.
PORTLAND, Ore., Nov. 4, 2015 -- An ongoing Kickstarter campaign for the Wink STEM robot rocketed past its funding goal of $6,000 in less than 7 hours. Ending on November 17, the campaign was awarded a coveted Kickstarter Staff Pick on its first day. At press time, backers had chipped in over $45,000 toward the campaign's success. Detailed information and images are available at http://files.plumgeek.com/media/wink_media_kit.pdf.

"We've been designing robots together as a family for the past year," explains Plum Geek's Founder Kevin King, "and it's been an incredible experience. But none of this would be possible without the strong support of the Kickstarter community."
Wink STEM robot helps kids graduate from graphical programming tools like Scratch to actual written code. Small but dynamic, the robot is capable of a wide variety of simple tasks, including line following, light seeking and barrier detection. Combining these tasks together enables free roaming activities such as maze navigation. Wink's hardware empowers users to be creative; once the basics of code are well understood, the possibilities are almost endless. Above all, the designers intended Wink to be fun for everyone.
At the heart of Wink's Arduino UNO based circuit board is an 8-bit processor. Code is written in the free, open-source Arduino environment. Wink features two surprisingly fast motors that can go backwards and forward independent of each other. Two RGB eyes can produce any color at any brightness. Three ambient light sensors can detect and follow illumination in front of the robot. In addition, an IR light under Wink's "nose" helps the robot see and avoid barriers. An onboard rechargeable battery provides hours of fun and discovery.
Accompanying the Wink STEM robot is a free and open curriculum of lesson plans, progressing from basic functionality to complex and creative tasks that leverage the device's full potential. Kickstarter funds will enable the Plum Geek team to complete about 20 lessons, along with companion videos for each one.
"Wink is perfect for classrooms, after school programs, STEM clubs, workshops and maker/hacker space events," added King. "Plus, instructors aren't required to understand code to use our lesson plans."
King and his team have already ordered the hardware necessary to manufacture at least 200 Wink robots - meaning early backers in the U.S. will likely receive their robots before Christmas. The remaining Kickstarter backer units will ship through January of next year.
About Plum Geek
The team behind Plum Geek has been designing and manufacturing electronics and radio systems for other industries for over six years. We're a group of fun loving people who love to hack, tinker and make. We've wanted to begin designing and manufacturing open source hardware for a long time. With your help, our robotics projects will become a huge success! Thank you!
Featured Product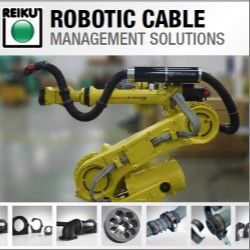 REIKU's Cable Saver™ Solution eliminates downtime, loss of revenue, expensive cable and hose replacement costs, maintenance labour costs. It's available in three sizes 36, 52 and 70 mm. All of the robots cables and hoses are protected when routed through the Cable Saver™ corrugated tubing. The Cable Saver™ uses a spring retraction system housed inside the Energy Tube™ to keep this service loop out of harms way in safe location at the rear of the Robot when not required. The Cable Saver™ is a COMPLETE solution for any make or model of robot. It installs quickly-on either side of the robot and has been tested to resist over 15 million repetitive cycles.