Companies to receive up to $170,000 in funding in a three-month intensive boot camp and the chance to showcase and secure additional funding during National Education Week
New York, NY November 09, 2015 -- EDGE, the premier edtech incubator, announced today the ten startups accepted into its immersive three-month, mentor-led Accelerator program in New York City.

These ten companies are addressing a range of challenges and market opportunities in pre-K12, higher education, career readiness, professional development, and lifelong learning. Chosen from 560 applicants from around the world, each of the ten companies will receive up to $170,000 in funding.
The EDGE 2015 cohort includes:
* Coach Tube - develops the premier sports instruction marketplace for brand named coaches to share their expertise with school coaches, young athletes and their parents.
* CredSpark - delivers formative assessments to help publishers and brands better understand, educate and attract customers.
* ExpertKnowledge - provides Fortune 5000 clients with a self-guided instructional design and course development tool to transform institutional knowledge into accredited e-learning courses.
* Erudite Science - creates an artificial intelligence mathematics tutor for K-12.
* Thrively -provides an assessment for kids' character strengths and connects them with personalized co-curricular activities so they can discover and pursue their passions in life.
* Junior Explorers - encourages kids to discover wildlife and nature through interactive, online and offline learning adventures.
* Kinems - develops a motion-based educational gaming platform that helps occupational therapists and special education teachers to improve childrens cognitive and motor skills.
* Little Bird - offers a HR & benefits platform custom-built for the education sector.
* Open Online Academy - provides online education and professional development for the infrastructure sector including architecture, structural engineering, construction and real estate to anyone, anywhere in the world.
* Ruckus Learning - offers a platform that leverages popular kid and family brands to create interactive reading and learning experiences.
In order to sort through the 560 applicants from around the globe, EDGE established a rock-star investment selection committee made up of edtech VCs, CEOs, and angel investors. The group focused on the "4 Ps" -- quality of the People, importance of the Problem, efficacy of the Product, and Progress made to date. Each selected company has a unique profile. All already have achieved some level of financing, product offering, and revenues.
"The technologies and solutions in our 2015 cohort are helping lay the foundations of the future of education," said Don Burton, Co-Founder of EDGE. "They are transforming how we use technology to better educate and positively impact the globe. Its exciting to be part of the sector thats evolving from a fragmented cottage industry into a truly global marketplace. EDGE works with these edtech startups to propel their business capability, plugs them into the most powerful early stage edtech network, and substantially increases their chances of success."
EDGE provides access to the industry's largest and most influential network of over 250 experienced leaders in the education and technology fields. Mentors and advisors include CEOs and founders of the most successful education companies such as Jake Schwartz of General Assembly, Peter Cohen, CEO of McGraw-Hill Education, John Katzman, CEO of Noodle, Rick Segal, Managing Partner of Rethink, Margery Mayer, CEO of Scholastic Education, and Chip Paucek, CEO of 2U.
The accelerator is designed to help entrepreneurs dramatically accelerate their business and to secure their next round of financing. The program culminates during National Education Week (http://www.nationaledweek.com) -- the global education innovation festival -- on December 15-17 at NYU. The founders of each startup will have 4 minutes to pitch in a "Shark Tank" style presentation. They will also have an opportunity to showcase their products at a global Demo Fair where attendees will have a chance to invest on the spot in curated companies and causes. Both the pitches and fair will reach an unparalleled network of approximately 800 angel and venture capital investors, education leaders, entrepreneurs, policymakers, investors, nonprofit leaders and educators.
"EDGE will galvanize the education technology community in New York City -- driving economic development, stimulating jobs, and accelerating an army of edtech entrepreneurs who are tackling important education problems," said Jonathan D. Harber, cofounder of EDGE. "In the education ecosystem, having deep relationships matters - and New York City is home to the largest K-12 distritct and top-tier universities, all the major publishers and the financial community - making it the perfect place to start and grow an edtech enterprise."
EDGE Edtech was co-founded by Don Burton, former Managing Director of the Kaplan Edtech Accelerator, powered by Techstars. While running the program in 2013 and 2014, Don successfully accelerated more than 20 edtech companies, including Degreed, Newsela, Verificient, Cognotion, RobotsLab and Edvisor. Co-founder, Jonathan D. Harber, is the renowned entrepreneur behind Schoolnet , Inc., one of the most successful edtech companies of the last decade. Jonathan was CEO of Pearson K12 Technology after its acquisition of Schoolnet in 2011. In 2014, Jonathan was a mentor at the Kaplan Edtech Accelerator, powered by Techstars where he and Burton first worked together.
About EDGE:
By galvanizing an eco-system of education innovation in New York City, EDGE aims to accelerate edtech entrepreneurs to tackle to world's greatest education problems. Co-founded by edtech veterans Don Burton and Jonathan D. Harber, EDGE runs an edtech accelerator, a 3-month intensive bootcamp for early stage edtech companies, a co-working facility for the edtech community, classes on edtech, and now the National Education Week festival. For more information on EDGE Accelerator, please visit: edgeedtech.com or follow us on Twitter @EDGEedtech.
Featured Product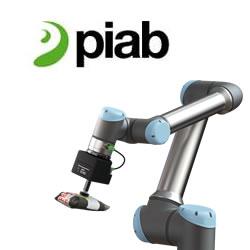 Piab's Kenos KCS gripper enables a collaborative robot to handle just about anything at any time. Combining Piab's proprietary air-driven COAX vacuum technology with an easily replaceable technical foam that molds itself around any surface or shape, the gripper can be used to safely grip, lift and handle any object. Standard interface (ISO) adapters enable the whole unit to be attached to any cobot type on the market with a body made in a lightweight 3D printed material. Approved by Universal Robots as a UR+ end effector.