New hydroform press meets needs for versatility, efficiency in jet engine component fabrication
Lewis Center, Ohio November 10, 2015 -- Facing robust demand from the aerospace industry, the Whitcraft Group has ordered a hydroform deep draw press from Quintus Technologies. The new 11,600-psi high-pressure press will advance the production of jet engine sheet metal parts and assemblies at Whitcrafts facility in Eastford, Conn., USA.

"We make hard-to-manufacture sheet metal aerospace components and assemblies from a broad variety of materials," says Whitcraft Engineering Manager Allen Roy. "The Quintus press will enable us to produce very complex, high profile parts that require a deep draw function. A reflection of our commitment to relentless, continuous operational improvement, it is expected to help achieve our ambitious production goals spurred by the current growth in the jet engine arena."
According to Sture Olsson, Global Business Development Manager at Quintus Technologies, sheet metal fabrication versatility is a must in todays jet engine manufacturing.
"The push for fuel-efficient aircraft puts new demands on jet engine designers as well as on parts fabrication capabilities, due to the formability requirements of low weight and very tough metal alloys," Olsson explains. "We have broadened our high-pressure hydroform press line to meet these challenges."
Along with expanded capabilities, the Quintus press will introduce a number of production efficiencies. The hydroform process requires only one rigid tool half, generating significant tool cost savings. Material draw ratios of up to 3:1 eliminate several forming operations, intermediate heat treatments, and operator dependencies.
"This will allow Whitcraft to manufacture high quality aircraft engine components with great accuracy, repeatability, and lower costs," Olsson states.
The new press, which will become operational in the spring of 2016, will replace a "very, very old Cincinnati Hydroform press," notes Whitcrafts Roy. "As we gear up our sheet metal fabrication capacity, the Quintus press will bring not only a modern replacement for old equipment, but also allow us to meet market demand for larger and larger part production capability."
The two companies have also entered into a cooperation agreement to promote market awareness of Hydroform/Flexform technology and Whitcrafts new production capabilities. The Eastford facility will serve as a demonstration site for the Quintus press.
"We chose Quintus not only for their vast experience in providing state-of-the-art high pressure presses, but also for the global footprint of the Quintus organization, aiming at assisting us in attracting additional business to our company," Roy concludes.
See Quintus at FABTECH 2015, Booth S4789, Chicago, IL USA November 9 - 12, 2015
For more information about Quintus Technologies, visit http://www.quintustechnologies.com.
About Quintus Technologies
Quintus Technologies specializes in the design, manufacture, installation, and support of high pressure systems for sheet metal forming and densification of advanced materials and critical industrial components. Headquartered in Västerås, Sweden, and represented in 35 countries worldwide, the company is the world leader in high pressure technology and has delivered more than 1,800 systems to customers across the globe within industries such as aerospace, automotive, energy, and medical implants.
About the Whitcraft Group
The Whitcraft Group brings together respected aerospace manufacturing service companies with more than 200 years of combined expertise, industry strength, and cutting-edge technology. Since its founding in the 1960s, the company has grown to become a full-service provider to the aerospace industry, specializing in concurrent engineering, manufacturing services, kitting, logistics support, and supply base management. Headquartered in Eastford, Conn., USA, Whitcraft has developed solid, long-term relationships with the global leaders in the gas turbine industry, including Pratt & Whitney, Pratt and Whitney Canada, General Electric, Honeywell, Siemens, Rolls-Royce and the United States government. Whitcraft is also prime supplier to major global Tier 1 revenue-sharing partners including MTU, Volvo Aero, Samsung Techwin and Mitsubishi Heavy Industries. Read more about the Whitcraft Group: http://www.whitcraftgroup.com
Featured Product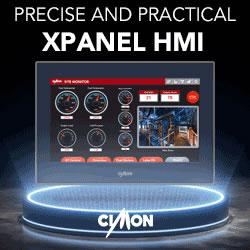 CIMON-XPANEL is a Windows CE based HMI unit. A combination of software and hardware, suitable for various monitoring needs within industrial sites.