- CFO Ed Henry Joins Company to Complete Executive Team -
PITTSBURGH, Pa.--Seegrid, the pioneer and leader in three-dimensional vision navigation, today announced it has appointed Ed Henry to serve as the companys Chief Financial Officer. Henrys appointment expands the Seegrid executive team and helps position the company for success moving into 2016.

Focused on driving strategic growth, Henry brings more than 20 years of leadership and finance experience. He previously served as Chief Financial Officer at Vista Resources, Inc., and as Director of Finance at Thermo Fisher Scientific before joining the company. Henry has a long track record in financial management, having held executive-level roles in strategic planning, operations and administration.
"I cant imagine a more exciting time to join Seegrid," said Henry. "As the leader in autonomous vision guided navigation technology, Seegrid is uniquely situated for significant growth during a very pivotal time in the evolution of industrial robotics."
"Based on more than 30 years of Carnegie Mellon University and Stanford University research and servicing the market for 14 years, Seegrid is extremely well positioned to capture a commanding share of the $111 billion material handling market," said Seegrid CEO Jim Rock. "Were excited about Ed joining the leadership team as we drive the company to the next phase of growth and market penetration."
The Seegrid leadership team is composed of experts in robotics, product development, engineering, manufacturing and sales:
* Jim Rock - CEO; over 20 years experience building and leading technology companies
* Dr. Hans Moravec - Chief Scientist; founder and robotics visionary
* Mitchell Weiss - CTO; over 20 years in technology, robotics and automation companies
* Jeff Christensen - VP, Products & Services; strategic leader in robotics and human sciences
* Chris Visnic - VP, Sales; proven leader in enterprise software and computer-aided engineering
* Sid Wiesner - VP, Engineering; experienced robotics and technology leader
* Scott Naugle - VP, Quality; over 20 years in technology manufacturing and quality management
* Ed Henry - CFO; over 20 years experience in finance and leadership
About Seegrid
Seegrid, the pioneer and leader in three-dimensional vision navigation, provides unique and revolutionary automation technology for materials handling. Engineered with state-of-the-art Seegrid Vision, Seegrid industrial trucks are transformed into the next generation of automated guided vehicles (AGVs): vision guided vehicles (VGVs). VGVs navigate without wires, lasers, magnets or tape, and they deliver unmatched flexibility. Designed for simplicity and reliability, the Seegrid flexible automation solution is available in a line of pallet trucks and tow tractors.
Experience the maximum benefits of VGVs with Seegrid Supervisor to manage, monitor and control a fleet of vehicles within the context of your operation. Generating economic advantages and operational efficiencies, VGVs optimize workflow processes, increase productivity and throughput, and reduce labor and operating costs, all while improving workplace safety, reducing equipment and product damage, and delivering a rapid return on investment. www.seegrid.com
Featured Product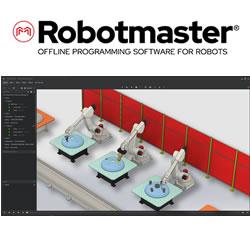 Since Robotmaster V7 uses integrated CAD/CAM functionality, for the first time, the power of Robotmaster can be used by welding, cutting and other process experts without buying or learning complex CAD/CAM software. As in past versions, Robotmaster V7 imports paths, but now makes it even easier for end users to leverage any CAD/CAM tool choice. It is an intuitive tool that anyone could use, with or without robotics expertise. It bridges the gap between robots and manufacturing by providing easy programming solutions for part manufacturing.