Major software release for easily creating machine vision applications without in-depth knowledge of programming ---New features for application training, password protection and even more flexibility ---Existing customers receive upgrade free of charge
Munich, November 19, 2015 - MVTec Software GmbH (www.mvtec.com), a leading manufacturer of standard machine vision software, will release MERLIC 2 on December 1, 2015. The new major release of the all-in-one solution that makes it easy to create machine vision applications, will be available in Austria, Canada, China, France, Germany, Japan, Switzerland, Taiwan, Thailand, and the United States. Along with improved robustness and speed, the latest version also provides an entirely new feature: the MERLIC Engine. This interface enables users to create MERLIC applications using the intuitive MERLIC Backend and then directly load, parametrize, and execute them within their C++ or C# framework. This makes the application creation process more flexible. An ActiveX control element displays a user interface that was previously created with MERLIC Designer in the development environment, allowing changes and their impact on the user frontend to be checked directly. The MERLIC Engine can be purchased as an addition to a MERLIC installation.

Training function and password protection
A new widget makes it possible to train machine vision applications right in the MERLIC Frontend so that the system quickly learns new objects on the basis of sample images. It takes only a few clicks to define the regions of interest (ROI) in an image that are relevant for the entire evaluation process. The ROI display can also be modified graphically - by changing the color, for instance - in order to optimize user friendliness.
Another useful feature of the new version is the password protection for applications created with MERLIC ("MERLIC Vision Apps", or "MVApps" for short). This feature prevents unauthorized third parties from accessing MVApps and thus protects the owner's intellectual property. The password protection function is also helpful when passing on the MVApp to customers who should not be able to change the code. Last but not least, the new MERLIC version comes with improved functions for reliably recognizing and reading bar codes.
Saving time and money when creating machine vision applications
"MERLIC 2 makes it even easier to create professional machine vision applications. The MERLIC Engine marks the beginning of a new MERLIC generation, one that is particularly attractive to system integrators. It gives companies a tool that saves time in developing standard machine vision solutions and is easy to integrate into their own application environments. This saves our customers time and effort," says Thorsten Daus, MERLIC product manager at MVTec.
A special benefit for existing customers: Starting on December 1, 2015, all companies who already own a MERLIC 1.2 license will receive a free upgrade to MERLIC 2, including the MERLIC Engine.
Featured Product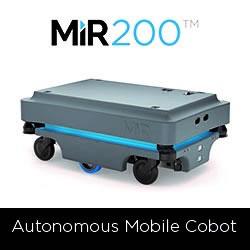 MiR200 is a safe, cost-effective mobile robot that automates your internal transportation. The robot optimizes workflows, freeing staff resources so you can increase productivity and reduce costs. MiR200 safely maneuvers around people and obstacles, through doorways and in and out of lifts. You can download CAD files of the building directly to the robot, or program it with the simple, web-based interface that requires no prior programming experience. With its fast implementation, the robots offers a fast ROI, with payback in as little as a year.