Michigan-based global IT service provider Syntel collaborates with companies about tying their revenue model to an intelligent automation strategy noting the challenge is as much about strategic planning as it is about the solution. "Intelligent automation is in a very nascent phase of development and the large service providers, thus far, have not educated the market well on the implications of these innovations and their investments," suggested by the HfS report. Syntel starts the automation discussion around ROI analyses. This way, Syntel and the client can determined what components are scalable enough to justify the business case.
Syntel, Inc. (Nasdaq: SYNT), a global provider of digital transformation, information technology and knowledge process services to Global 2000 companies, today announced that a recent report authored by HfS Research analysts Tom Reuner and Phil Fersht praised the Companys automation platform, SyntBots™ as an example of the concept of "Intelligent Automation."

The HfS report, entitled "Lack Of Automation Revenue Model Spells Disaster For Service Providers" asserts that Intelligent Automation is a critical transformation lever for innovative enterprises, and singled out SyntBots as an example.
SyntBots is a next-generation platform that automates repetitive manual processes across IT operations, DevOps and business processes. The platform has delivered a 70% reduction in downtime and up to a 30% reduction in "run the business" costs. SyntBots also powers enterprise digital transformation initiatives by freeing up critical staff and delivering the integrated processes, improved quality and increased agility necessary to change the business.
According to the HfS report, SyntBots "provides a critical differentiation to many of its peers and is underpinned by a vertical jumpstart library to accelerate deployments for specific vertical use cases."
The authors go on to state that, "Syntel has shown it can leverage these investments in SyntBots to create greater stickiness and innovation with some of its key clients."
According to Syntel CEO and President, Nitin Rakesh, enterprises that are not exploring automation as a strategic transformation lever may be putting their competitive position at risk.
"Intelligent Automation is an important strategic investment for todays enterprises," said Rakesh. "It provides the agility, availability and efficiency that enterprises need to stay relevant in the two-speed world."
"Automation enables companies to adopt new technologies to improve productivity and fundamentally transform their business processes, applications and infrastructure."
The HfS report also recommends that enterprises considering an automation initiative work with a service provider to investigate the risks and rewards of such an effort.
"Enterprises that do not begin this discussion with their service providers are at risk of losing the early mover advantage," said Rakesh.
Reuner and Fersht caution that, "Intelligent Automation is an investment… [and] ROI is not immediate. However, risk and sacrifice can be managed through a skilled and confident provider to help guide the enterprise through the process."
"With Syntel, the discussion [with clients] begins with the ROI analysis and the scalability to justify the business case for the enterprise. By baking in SLAs into contracts that codify cost savings, Syntel is challenging the dominance of FTE based and fixed price contractual models."
More information about SyntBots is available at www.syntelinc.com/syntbots/.
About Syntel
Syntel (Nasdaq: SYNT) is a global provider of digital transformation, information technology and knowledge process services to Global 2000 companies. Syntels mission is to create new opportunities for clients by harnessing our passion, talent and innovation. We combine technology expertise, industry knowledge and a global delivery model to drive business value creation. Syntels "Customer for Life" philosophy drives our relentless focus to build long-term, collaborative client partnerships. To learn more, visit us at: www.syntelinc.com.
Safe Harbor Provision
This news release may include forward-looking statements, including those with respect to the future level of business for Syntel, Inc. These statements are necessarily subject to risk and uncertainty. Actual results could differ materially from those projected in these forward-looking statements as a result of certain risk factors set forth in the Company's Annual Report on Form 10-K for the year ended December 31, 2014, the Company's Quarterly Report on Form 10-Q for the quarter ended September 30, 2015 or from other factors not currently anticipated.
# # #
Contacts:
North America/Europe: Jon Luebke, (248) 619-3503, jon_luebke@syntelinc.com
Asia/Pacific: Sikta Samantaray, +91 9167512186, sikta_samantaray@syntelinc.com
Featured Product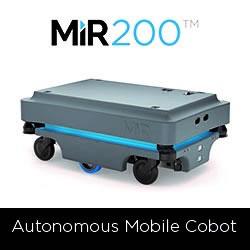 MiR200 is a safe, cost-effective mobile robot that automates your internal transportation. The robot optimizes workflows, freeing staff resources so you can increase productivity and reduce costs. MiR200 safely maneuvers around people and obstacles, through doorways and in and out of lifts. You can download CAD files of the building directly to the robot, or program it with the simple, web-based interface that requires no prior programming experience. With its fast implementation, the robots offers a fast ROI, with payback in as little as a year.