The plastics industry is booming.
The plastics industry is booming. Regardless of whether in the automobile industry, aviation and aerospace industry, food, pharmaceutical or medical industry or any other industry, it is a question of automation of plastic applications. The mega-trend here is the complete machining of plastic parts directly at a press. At AUTOMATICA 2016 in Munich from June 21 to 24 June, robot manufacturers and system integrators will present suitable automation solutions.

The days are long gone when robots were hardly utilized and only handled simple part removal from injection molding machines (IMM). With the complete automation of the entire process chain from part insertion via all possible machining steps to packaging and labeling, automation has advanced to handle the most demanding tasks in the plastics industry.
The reason for this is obvious: The production of simple injection-molded parts is largely outsourced to low-wage countries outside the European Union. However, business is booming in Europe with plastic parts and components, which require a great deal of know-how and substantial engineering effort. The challenge today is to manufacture complex parts economically in complete machining directly at an IMM.
The Diedorf plastic specialist Borscheid + Wenig, which produces covers for the engine compartment of a German automobile manufacturer, demonstrates how such solutions can look like in actual practice. "We searched for a solution that can handle the removal from an injection molding machine as well as transfer into the cavity and the mounting device as precisely and with as much repeatability as possible," Managing Director Carlo Wenig explained. Only the use of robots came into question to automate the different steps in a system. Even the subsequent mounting of clips into the component is fully automatic in the same cell. Two fast KUKA robots share the activities and work hand-in-hand in the cell, thereby ensuring highly efficient production of components.
Complete machining is also a big item on the agenda at the automotive component supplier Body Control Systems, a company of the automotive supplier TRW, in the production of eight million brake light switches. In the cell, two robots take over not only the loading and unloading of the injection molding machine, but also all upstream and downstream work including the complete quality assurance process.
Important market for automation specialists
The plastics industry has developed into one of the most important markets for almost all robot manufacturers in the recent past. According to International Federation of Robotics, the number of robots is experiencing a continuous upward trend. In period from 2010 to 2014, the automobile industry recorded an increase of robots for rubber and plastic applications by an average of 46% per year worldwide. With such this dynamic growth, many AUTOMATICA exhibitors are naturally focusing on this industry and pushing forward innovative developments in close cooperation with users and machine manufacturers.
For example, FANUC: The company is involved in the automation of tasks in the field of plastics in all three product areas: control systems and servo feed drives, IMM and robots. Olaf Kramm, Managing Director of FANUC Germany GmbH, emphasized: "Our competence topics are performance, reliability and seamless integration from CNC all the way to robots. AUTOMATICA provides an interesting venue to present this application scope." Mr. Kramm also pointed out changes in market conditions in automation. Due to the trend toward complete machining with integration of assembly work and other value-added activities, he sees other criteria for the selection of a "linear handling device or flexible robot" than for simple removal. Selecting the right robot enables easy integration into secondary operations in many cases.
Plastics expertise at AUTOMATICA 2016
Regardless of whether under harsh production environments or in a clean room, the appropriate robot can be found for every task involving IMM at AUTOMATICA 2016. Exhibitors show what types of robots enable the shortest mould open time on injection molding machines, how simple the connection of robots is using standardized Euromap interfaces, and how increasingly complex processes for complete machining can be integrated space-saving. The trendy topics are user-friendly operation and Industry 4.0. Further development steps are expected here, which will enable plant operators and system integrators to take advantage of the very varied possibilities of robotics and integration into digital networks even without expert knowledge.
Featured Product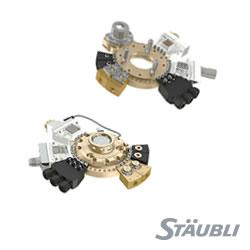 TX2 robots: redefining performance by offering collaborative safety and high performance in a single machine. These pioneering robots can be used in all areas, including sensitive and restrictive environments, thanks to their unique features. Safety functions are easy and inexpensive to implement. They allow a higher level of interactions between robots and human operators, while still guaranteeing protection of your people, production and investment.