Certification moves Thunderbolt 2 enabled cameras to mass production phase for use in machine vision
MUNSTER, GERMANY December 09, 2015 -- XIMEA made the next step in bringing unique Thunderbolt 2 enabled cameras to industrial and scientific users: http://www.ximea.com/en/technology-news/thunderbolt-technology-enabled-camera

First model in the line was formally certified and can now enter into range of other standard product camera lines offered by XIMEA. More models with new high quality sensors are in process.
First prototype units of Thunderbolt 2 enabled cameras from xiT line were presented by XIMEA on the Vision 2014, showcased on Intel Development Forum 2015 in summer and further tested during multiple Thunderbolt Plugfests. XIMEA camera had to undergo strict and rigorous testing done by independent laboratory and respective officials.
The final outcome ensures smooth and seamless compatibility with other Thunderbolt certified products and approves XIMEA to ship MT200 model with Thunderbolt Trademark and Logo for PC and Mac.
MT200 is equipped with industry proved 20 Mpix sensor CMV20000 from CMOSIS. Full resolution of this CMOS sensor with Global Shutter at 30 frames per second and 12 bit per pixel can be achieved thanks to the Thunderbolt 2 bandwidth of 20Gbit/s and without the need of any frame grabbers. Camera itself is further enhanced with the active EF-mount interface for control of dynamic aperture and focus. Dual-port Thunderbolt 2 facilitates daisy chain interconnection, which can reach up to 60m distances with fiber optics cables.
Other models in the certification pipeline are equipped with newest Sonys CMOS sensors based on Pregius technology.
Cameras include XIMEA free of charge API/SDK which supports Windows 32/64 and Mac OS X.
Linux support development is currently in progress.
About XIMEA
Drawing on two decades of experience in the industry, XIMEA offer consists of state-of-the-art cameras with USB 3.0, USB 2.0, PCI Express and FireWire interface as well as X-RAY, Hyperspectral and Thunderbolt technology enabled cameras.
For more than 20 years XIMEA has developed, manufactured and sold standard or OEM cameras for machine vision applications in motion control, assembly, robotics, industrial inspection and security, as well as scientific grade cameras for life science and microscopy.
The main distinction is based on extremely robust way the cameras are built while still providing highest speed like for example the USB3 Vision camera line.
"Thunderbolt and the Thunderbolt logo are trademarks of Intel Corporation in the U.S. and/or other countries".
Featured Product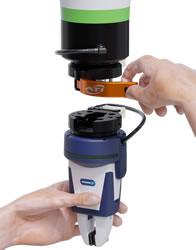 ATI Industrial Automation's MC-10 Manual Tool Changer provides a cost-effective solution for quickly changing tools by hand. Its compact yet robust design is optimized for collaborative robot applications. The ergonomic twist-collar locking mechanism ensures a secure attachment of the tool and easy manual operation with tactile feedback. This Manual Tool Changer can carry payloads of up to 22 lbs and includes multiple fail-safe features that resist vibration and prevent loosening. The MC-10 Manual Tool Changer has integrated air pass-through connections and options to connect electrical utilities if needed. ATI will feature the new MC-10 along with a variety of other robotic demonstrations and product displays at this year's IMTS show in Chicago (Booth #236417).