Annapolis, MD December 09, 2015 -- Sphero, leaders in connected play, is partnering with CWIST, a web platform supporting learning projects for students from 3 to 103, to power Spheros online learning community, SPRK Lightning Lab. The new partnership is the latest one to bring the CWIST platform to educators in the maker space. CWIST partners with educational companies to help them deliver incentivized hands-on lessons to classrooms via the CWIST platform. To learn more about the new platform, go to http://www.cwist.com/platform.

Sphero makes app-enabled, teachable robots. SPRK Lightning Lab hub uses CWISTs online platform to offer a free virtual community that allows educators, students, makers and parents to communicate about their projects. To get started users download the mobile app to program their robot. They can then log into the website and browse a library of activities and share programs with the community. Activities include learning how to program Sphero robots to simulate the atomic composition of liquids and solids, the motion of orbiting planets, and over 75 other activities built by Sphero and educators around the world. Educators can set up virtual classrooms, create lessons, assign activities, view progress in real-time and review student work.
"Chris and his team [CWIST] have been a paramount partner in building our community platform for SPRK," said Bill Cullen, Sphero Product Manager. "It's going to take our business to the next level for interactivity, community participation and collaboration, scalability and down-right fun for our users."
CWIST is a leader in providing content and an online platform for the maker movement. CWISTs platform brings maker-inspired products to students, schools and consumers, nationwide. The partnership with Sphero is the latest example of how CWIST is working with leading making manufacturers to expand its reach to educators. CWISTs platform packages partners content into custom, engaging learning experiences that continually drive fresh content and value to educators and consumers.
"CWISTs goal is to support the maker movement nationwide by supplying fun, engaging, educational activities and by providing a way for educators, parents, students, children and businesses to connect with each other," said CWIST Founder Chris Sleat. "Spheros programmable robots and SPRK Lightning Lab offer exciting, fun, educational experiences. The new web platform with its activity sharing, authoring and classroom management capabilities provide true value to educators and consumers."
CWIST also offers maker projects that help students create amazing things while supporting parent and teacher goals. An interactive library of maker, doer, and get-moving challenges called cwists that are created by cwist, its partners, and the cwist community. Examples include learning geometry, physics, and coding, all while shooting a robot off a ramp.
About CWIST
CWISTs learning platform turns partner content into custom interactive learning challenges that reward users, driving sustained engagement and extending a partners education community. The original installation, CWIST.com, is an award-winning, free maker education website. The site offers projects help to help students make something amazing while supporting parent and teacher goals. CWIST keeps kids engaged, excited and part of a community where they can add or find great new ideas every day.
About Sphero
Sphero creates robots injected with humanity and personality. Thats what we know, what we love, and who we are. Unlike traditional toys, our robots and software are changing the way people play, learn, and explore by fusing emerging technology with the latest innovations in robotics. As the industry leader in Connected Toys, we are defining the future of fun. Playtime just got real.
Featured Product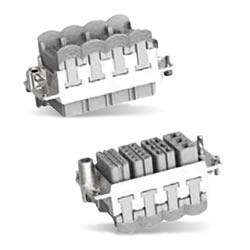 TE Connectivity's HDC Dynamic Module integrates the Dynamic series flexible signal and power solutions and the HDC Heavy Duty Connector series to form a solution of harsh environment connectors. TE's HDC Dynamic Module offers the top features of the two series. It uses the contact concept of the Dynamic series, with its proven performance in industrial uses and its cost effectiveness compared to legacy cutting contacts. The HDC connectors make the module a reliable solution for harsh environments. TE's HDC Dynamic Module supports 2A/32V to 40A/300V performance and 3 positions to 48 positions.