The 5D solution is much more accurate and reliable than GPS and can function in rain, dust, snow and fog.
Carlsbad, CA - December 17, 2015 - United Rentals, Inc. (NYSE: URI), the largest equipment rental company in the world, and 5D Robotics, Inc., a leading provider of automation for the defense and energy sectors, have teamed up to bring the latest autonomous driving technology to United Rentals equipment operations. The 5D solution prevents collisions, enables multiple vehicles to follow a person or lead vehicle ("wagon-training"), and allows operators to quickly and easily create and modify autonomous paths throughout a facility. The 5D solution is much more accurate and reliable than GPS and can function in rain, dust, snow and fog.

Helge Jacobsen, United Rentals' Vice President of Operational Excellence, commented on the partnership:
"We're very excited to be moving forward with 5D Robotics. Seeing this reliable, safe, autonomous vehicle technology function in our rental yards has been an eye opener. The equipment can move from station to station within the yard. The integration with 5D offers substantial opportunities to improve our efficiency and safety, as well as provide new analytical and mapping tools to our own branches and eventually to our customers."
David Bruemmer, 5D Robotics' Co-Founder and CEO, believes that 5D has the best technology and team to take on this partnership:
"5D has pioneered precision positioning and autonomous driving software that performs reliably in difficult, dynamic environments. By adding our cross-platform plug and play modules, we can provide autonomy and enhance safety across United Rentals' fleet. We are excited to expand the application of autonomous vehicles into the equipment rental space with the industry leader. Our two companies share a passion to bring this innovative technology to hundreds of United Rentals locations, and, ultimately, to their customers."
ZTR Control Systems and SiTech RTD are joining United Rentals and 5D Robotics in the development of the new systems and solutions that will be utilized by United Rentals.
Featured Product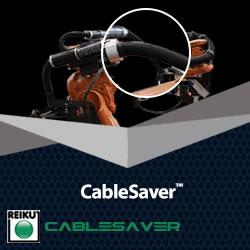 REIKU's Cable Saver™ Solution eliminates downtime, loss of revenue, expensive cable and hose replacement costs, maintenance labour costs. It's available in three sizes 36, 52 and 70 mm. All of the robots cables and hoses are protected when routed through the Cable Saver™ corrugated tubing. The Cable Saver™ uses a spring retraction system housed inside the Energy Tube™ to keep this service loop out of harms way in safe location at the rear of the Robot when not required. The Cable Saver™ is a COMPLETE solution for any make or model of robot. It installs quickly-on either side of the robot and has been tested to resist over 15 million repetitive cycles.