Distributors to meet growing demand for safe and efficient IV medication compounding
ARxIUM, developer of industry-leading pharmacy automation and workflow solutions, today announced it has signed agreements with four companies to serve as exclusive distributors of its RIVA automated compounding system in the Asia-Pacific region. RIVA, the only fully automated compounding system on the market today, prepares syringes and IV bags in an aseptic ISO Class 5 environment, which significantly enhances patient safety and increases pharmacy efficiency.

"Were excited about our new strategic partnerships, as were continuing to expand the companys global reach," said Dr. Niels Erik Hansen, president and CEO of ARxIUM. "Since recently announcing our distributor partnership with Silver Wing Technologies to service mainland China, we quickly realized there was additional demand and interest throughout the broader Asia-Pacific region for RIVAs unmatched IV compounding capabilities. These new distributors provide us with local expertise and knowledge to help hospitals and other healthcare facilities ensure patients receive safe and accurate medications."
Hong Kong and Macau
EuroMed Technologies, a provider of comprehensive healthcare systems and technology for hospitals, medical centers and others in Southeast Asia, will serve as the exclusive distributor of RIVA in Hong Kong and Macau. EuroMed, based in Hong Kong, represents leading international companies in hospital automation, medical laboratory equipment, diagnostic systems and personal healthcare devices.
Australia and New Zealand
A provider of healthcare software, technology and robotic systems, Dose Innovations will serve as RIVAs exclusive distributor in Australia and New Zealand. The Australian-based company delivers cutting edge and sustainable automated healthcare solutions, which allow pharmacies to maximize return on investment and efficiency.
Thailand
As the exclusive distributor of RIVA in Thailand, Thanes Science provides hospital pharmacy automation, specialized laboratory instruments and other medical products to healthcare providers throughout the country. The company is a subsidiary of Thanes Group, a leading distributor of widely recognized scientific, dental and medical equipment in Thailand.
Singapore
TaPestle Rx, a provider of healthcare design and construction services, will serve as the exclusive distributor of RIVA in Singapore. As a pioneer in automation-centered architecture, the companys healthcare solutions help increase efficiency and reduce waste, while ensuring state-of-the-art medical facilities are in compliance with international Current Good Manufacturing Practice standards.
ARxIUM will be exhibiting (booth 2213) its award-winning technology and solutions, including RIVA, at the 2015 ASHP Clinical Midyear Meeting in New Orleans from December 7 to 10. Attendees will have the opportunity to see live product demonstrations of RIVA and other pharmacy automation systems and speak with the company leadership team and subject matter experts. RIVA was recently recognized as category leader in "Pharmacy Automation: IV Robots" by independent healthcare research firm KLAS in its "2015 Best in KLAS: Medical Equipment & Infrastructure" report.
KLAS report citation:
"2015 Best in KLAS: Medical Equipment & Infrastructure," November 2015. © 2015 KLAS Enterprises, LLC. All rights reserved. www.KLASresearch.com.
About ARxIUM
Based in Winnipeg, Manitoba and Buffalo Grove, Illinois, ARxIUM delivers best-in-class technology and unparalleled expertise to help pharmacies of all sizes improve safety, productivity and efficiency. The company provides scalable, comprehensive solutions for every segment of the pharmacy market. ARxIUMs offering includes automated compounding, packaging and dispensing, compliance packaging management, inventory control and storage, workflow and scheduling software, production and workflow design, and technical consulting and implementation assistance, among other services. The company is the first to offer a Total Dose Solution, a customizable, end-to-end solution for oral-solid and IV dose preparation. For more information, visit www.arxium.com.
Featured Product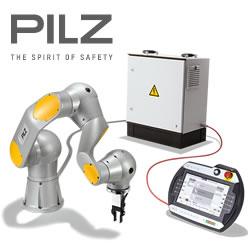 Our service robotics modules give you an easy start in robotics. Assemble your individual robot application - exactly according to your requirements: Service robotics modules consists of the manipulator module PRBT, the control module PRCM, the operating module PRTM and ROS modules. Our collision measurement set PRMS for human-robot collaboration (HRC) supports you reliably on your path to a safe application. Application areas of the service robotics modules can be found in service robotics and industrial environments. Benefit from our cost-efficient, flexible solution!