Introducing the integration of TORC Robotics' RemoteTask™ wireless remote control technology with the Cat D Series SSL, MTL, and CTL.
TORC Robotics and Caterpillar announce the availability of the RemoteTask™ remote control system for Cat® D-Series Skid Steer, Multi-Terrain and Compact Track Loaders. The RemoteTask system enables operators to precisely control the machines from outside the cab—as far away as 1,000 ft (300 m) and at a safe distance from potentially hazardous tasks and environments.

"Providing customers a solution to remove the operator from harms way while operating Cat compact loaders in certain applications further supports Caterpillars commitment to safety," stated Jeff Griffith, Sr. Market Professional for Caterpillar. "TORC Robotics and Caterpillar have teamed up on the development of this solution for SSLs, MTLs, and CTLs and have an exclusive marketing agreement to distribute and support RemoteTask through Cat dealers."
The RemoteTask controls feature virtually no lag in machine response time. With RemoteTask, the remote operators performance is as fast and smooth as in-cab operation. The intuitive remote control interface is designed to closely mimic in-cab machine controls, creating an easy operator transition from manual to remote operation.
"When using the RemoteTask controller, the machine response is instantaneous," said Bob Shoop, Product Demonstrator/Instructor for Caterpillar. "The feel and response mirrors the operator controls of the machine itself. Remote controls Ive tested previously often had a delayed response."
Transforming a machine is simple. It only takes about an hour for a Cat dealer to install the RemoteTask system. With the system installed, the machine can transition from manual to remote mode at the turn of a key switch. The system is completely transferable between units.
The portable yet durable console allows the operator to move as needed for good lines of sight. RemoteTask can be integrated into 16 models of Cat D Series Skid Steer, Multi-Terrain and Compact Track Loaders and can control more than 200 work tools with all hydraulic functions controlled via the remote system.
The RemoteTask remote control system will be available for purchase in North America in January 2016, followed with availability outside of North America at a later date. For more information, contact TORC Robotics, Inc. (1-800-530-9285) or sales(at)torcrobotics(dot)com or visit: http://www.torcrobotics.com/.
***
About TORC Robotics
TORC Robotics, Inc. (TORC®) is a leading provider of unmanned and autonomous ground vehicle solutions for the defense, mining, automotive and agricultural industries. TORC components and technology have been integrated on over 100 unmanned and autonomous ground vehicle platforms ranging in size from 5 pounds to 240 tons. TORCs robotic systems provide customers with rapid solutions by leveraging proven commercial-off-the-shelf technology to ensure customer solutions are provided on time and on budget.
TORC, the TORC logo and variations of it are trademarks of TORC Robotics, Inc. are protected in the US and other countries.
CAT, CATERPILLAR, their respective logos, "Caterpillar Yellow," the "Power Edge" trade dress as well as corporate and product identity used herein, are trademarks of Caterpillar and may not be used without permission.
©2015 Caterpillar All Rights Reserved.
Featured Product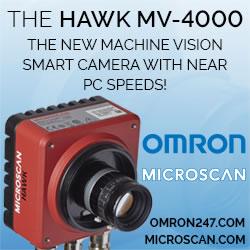 Awe-inspiring power and superior flexibility is sheathed within the contoured casing of the HAWK MV-4000. This smart camera builds upon the previous generation by quadrupling processing power and achieving real-time trigger response using an FPGA. Its state-of-the-art algorithms make it an excellent tool for any industry, whether the requirement be code reading, code verification, inspection, guidance, gauging or a combination of all four.