The 2015 Robotics Alley Conference & Expo played host to the first annual "Invest in Innovation" competition earlier this month, where three technology startups made an impression on both the judges and the attendees.
The 2015 Robotics Alley Conference & Expo played host to the first annual "Invest in Innovation" competition earlier this month, where three technology startups made an impression on both the judges and the attendees. The competition was designed to showcase emerging technologies related to robotics and automation.

Three finalists were handpicked to participate in the event based on their innovative products, and each company gave a 12-minute pitch to a panel of investors/judges in front of a packed audience of Robotics Alley attendees. Visitors to the event were able to interact with the companies following their pitches as well as during the conference and expo, where each finalist was offered a complimentary booth.
The three finalists were:
HabitAware
HabitAware is a Minnesota-based company whose product is designed to help users curb debilitating subconscious behaviors. Their wearable device brings real-time awareness to the user when he or she is performing the behavior. Behaviors initially being targeted include Body Focused Repetitive Behaviors (BFRBs) such as hair pulling (trichotillomania), nail biting, skin picking and thumb sucking. These behaviors affect over 30 million Americans collectively. Ultimately, the device could be used to reduce or prevent any physical habit such as smoking or overeating. Combined with an app that provides data tracking, insights, and a support community, HabitAware is a powerful tool to fight debilitating disorders. http://www.habitaware.com
Harvest CROO
Harvest CROO Robotics (HCR), based in Central Florida, was founded in 2013 by strawberry grower Gary Wishnatzki and robotic engineer Robert Pitzer to develop agricultural robotics. The first HRC strawberry picker proof-of-concept prototype was built in 2013. HRC raised $1 million in the first funding round in 2014. Several milestones later, HRC is in its second round and looking to raise an additional $1.5 million. HRC has employed a collaborative approach by drawing on resources across the robotic community as well from agriculture, machine manufacturers, packaging and GPS companies, and other related industries. HRC has applied for a U.S. utility patent, encompassing its novel approach and competitive advantage for strawberry pickers. http://www.harvestcroorobotics.com
NimbeLink
NimbeLink is an Internet of Things (IoT) and Machine to Machine (M2M) Solutions Company based in Minneapolis. NimbeLink focuses on smart, simple cellular solutions. A core set of intellectual properties, products and services created by NimbeLink enable the rapid deployment of complete IoT solutions. Building out from its core product, the Skywire™ end-device certified cellular modem, NimbeLink can deliver everything from the edge to the cloud. NimbeLink was founded and is led by Scott Schwalbe, a 20-year active-duty veteran of the United States Navy. Prior to NimbeLink, Scott held executive, operations and business development roles at Celestica and Logic PD. http://www.nimbelink.com
Each of the companies represented a different stage in the startup lifecycle; however, Emily O'Brien, President of Dakota Venture Group and one of the judges for the event, said they all made a strong case for investment.
"The participants that presented at Robotics Alley did a phenomenal job - from their concept to execution it was very clear what they were trying to pursue," she said. "I am excited for these entrepreneurs and to assist in moving their innovative ideas forward."
Because of the high quality of the presentations, the judges elected not to name an outright winner, instead choosing to work with each of the companies in different ways to help them move forward.
The judges for the event included Tom Kenville, Rainmaker, Chair, Valley Angels; Rick Lowenberg, President/Owner, RSR Electric, LLC; President, Minnesota Elevator, Inc.; Emily OBrien, Entrepreneur Specialist; President, Center for Innovation, Dakota Venture Group; David Russick, Founder, Managing Director, Gopher Angels LLC.
Check for updates on the progress of each company going forward on The Business of Robotics website, http://thebusinessofrobotics.com.
About Robotics Alley
The Robotics Alley Conference & Expo is an annual gathering in Minnesotas Twin Cities that is on pace to become one of the worlds leading conferences on robotics and automation. The event began in Minneapolis in 2011 as an industry-led initiative to spotlight the rapid growth of robotics and automation both globally and in the Midwest. It sought to bring together businesses, researchers, engineers, investors and others to help catalyze the fast-emerging robotics industry in Minnesota and the surrounding region. Since that time, it has grown to attract attendees from across the U.S. and the world. The event features discussion of leading-edge technological developments, world-class speakers and hands-on demos.
Featured Product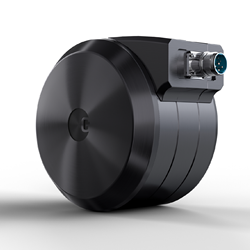 Welcome to the next generation of robotics and machinery. LiveDrive LDD is a unique direct drive motor that overcomes almost every limitation of servo geared solutions. A 50% reduction in length from typical geared motor is possible with Genesis direct drive motors. Choose to simplify machine designs and have a shorter footprint while having high performance, accuracy, and efficiency.