Plastics Technology announces agenda for 26th annual event on injection molding includes presentations on injection molding, automation, 3D printing, materials and process maintenance
Molding 2016, presented by Plastics Technology, today announced the complete line-up of speakers and technical sessions for its 26th annual conference. The three-day event will offer attendees unique ways to connect with leading suppliers, end-users and researchers of molding technologies.

The full agenda is available at: http://www.moldingconference.com
Taking place in New Orleans, LA, March 29-31, 2016, Molding 2016 includes more than 50 technical sessions examining design, material, machinery and applications technology used in injection molding. Specific topics include materials development, automation, tooling, additive manufacturing, materials drying/handling and the establishment and maintenance of a robust process.
Technical presenters include thought leaders from machinery suppliers Arburg GmbH, Engel, Milacron and more; leading injection molders including Extreme Molding, Makuta Technics Inc. and Noble Plastics; auxiliary suppliers like The Conair Group, Novatec and Universal Dynamics and materials suppliers Eastman Chemical Company, Covestro, Momentive and PolyOne Corp.
"This conference is uniquely focused on injection molding. As a result, our presenters represent the leading OEMs, contract manufacturers, equipment suppliers and researchers developing molding processes and equipment. If a company is involved in any part of the molding business, this is the event for learning about the processes, the products and the people, that are leading injection molding," commented Allison Miller, Event Director.
Registration is open for Molding 2016. Full event details are available at moldingconference.com.
Featured Product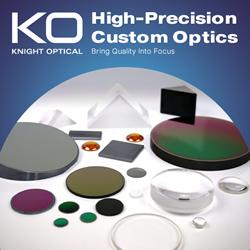 Knight Optical (KO) has provided discerning engineers, designers, and the like from the automation sector with dependable, premium-quality optics for over three decades. Throughout this time, the leading supplier has helped refine the precision of some of the world's most innovative technologies and partnered with a wide range of companies throughout the industry. In this article, Automation talks to KO about its involvement in the sector and, ultimately, finds out more about how the optical brand can help your supply chain process.