Pamela Kan Brings Experience and Passion to Alliance Roles
Pittsburg, Calif. - February 3, 2016 - Bishop-Wisecarver Group (BWG), a WBENC-certified, woman-owned family of companies that offer guidance solutions, contract specialty manufacturing and mechatronic-based engineering services, announced that company president, Pamela Kan, has been selected to serve in dual roles with the Industrial Careers Pathway® (ICP) initiative. Kan was chosen as the first special representative serving on the ICP Steering Committee due to her expertise working with women, minorities and younger generations. She will simultaneously serve as chair of the ICP Women & Minorities Sub-Committee, in addition to her role as special representative to the Steering Committee. In both roles, Kan will provide leadership and strategic direction to guide the group as it builds awareness of industrial distribution careers.

ICP is an initiative to build awareness of industrial distribution as a career field to "right-fit" entry level employees in North America. ICP is supported by an alliance of nine trade associations and the hundreds of member companies—both distributors and manufacturers—that belong to them.
"Manufacturers and industrial distributors tell us they face challenges to hire, train and develop employees to fill the large number of job openings they have currently, with even more coming in the future as Baby Boomers retire," said Mary Jawgiel, ICP program director. "Pamela understands these hiring challenges first hand and we are impressed with the work she has already done to raise awareness about the vast opportunities in this industry. Her strategic leadership, experience and passion in reaching out to women and minorities about this industry will be a great asset to the ICP initiative."
The ICP Steering Committee was formed to bring the voice of trade associations and their member company employers to the table to help in the planning and development of the ICP initiative and to advise on program components. Steering Committee members serve two-year terms on a calendar year basis and can be reappointed for up to four terms.
"We anticipate more than one million industrial distribution job openings in North America in the next five years. The salaries, benefits, training and career paths make this an incredible opportunity for women and minorities," said Pamela Kan, president of Bishop-Wisecarver Group. "Im passionate about connecting qualified people with companies that need and appreciate them. In my new roles with ICP, I look forward to working to increase awareness with the younger generation, and especially women and minorities, to help create a more diverse, inclusive pipeline of employees for this industry."
About the Bishop-Wisecarver Group
Bishop-Wisecarver Group (BWG) is a woman-owned family of WBENC-certified companies that works with manufacturers to engineer, manufacture, and build linear and rotary motion solutions, custom complex assemblies, and optimal embedded intelligence systems. Through the integration of mechanical, electrical, software, control and systems design engineering expertise, 65+ years of experience and 20,000+ unique clients, BWG continues to provide a single point of service that results in custom designs, increased efficiencies and accelerated time to market. For more information, visit www.bwc.com.
About Industrial Careers Pathway (ICP)
ICP is a multifaceted North American workforce initiative supported by an alliance of industry associations including American Supply Association, Heating Air-conditioning & Refrigeration Distributors International, Industrial Supply Association Education Foundation, National Association of Chemical Distributors, National Association of Electrical Distributors Education & Research Foundation, NAHAD—The Association for Hose & Accessories Distribution, NIBA—The Belting Association, North American Building Material Distribution Association (NBMDA) and PTDA Foundation. ICP links students and job seekers to career paths in industrial distribution and manufacturing through partnerships with local educators and employers. For more information, visit IndustrialCareersPathway.org/Hire, follow ICP on LinkedIn, or contact ICP at info@industrialcareerspathway.org or call +1.312.516.2100.
Featured Product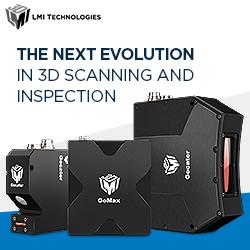 Every robot needs eyes to see, think, and do. Gocator® 3D smart sensors add powerful vision-guidance and inspection capability to industrial robots. You can use these sensors in a wide variety of factory automation applications. Pair them with scara, delta, and collaborative robots to create complete robotic solutions that deliver high-performance 3D results in vision-guidance, quality control inspection, and automated assembly with smart pick-and-place. Make your robot FactorySmart® with Gocator 3D smart sensors.