The first pre-sale units of BUDDY, the companion robot, are available for $699.00US exclusively at http://www.adoptbuddy.com. Shipment is expected in Q4 2016.
Blue Frog Robotics, creator and developer of BUDDY -- the companion robot that captured the affection of tens of thousands at the recent CES 2016 -- today announced the pre-sale of 1000 units. BUDDY is priced at $699.00US* during the pre-sale, approximately 10% less than the planned list price when shipments begin in Q4.

The worlds first true companion robot, BUDDY is built on an open source platform and was conceived with the premise that it will become indispensable for all members of a household, much like todays smartphone has become.
BUDDY, an ideal companion for the entire family
Blue Frog Robotics developed BUDDY to assist family members in their daily lives. BUDDY can do so many things: he can monitor a house, interact with home-connected devices, play learning games and childhood favorites like "Hide and Seek," provide practical information to adults and support the elderly with medication reminders and companionship. BUDDY is also helping children with special needs, including autistic children.
In addition, because BUDDY is built on a modular, flexible open source platform, the global community of BUDDY hardware and software developers are able to easily enrich the portfolio of applications specifically targeted to professionals in education and health care, as well as in other markets that are realizing the benefits of a companion robot.
"BUDDY is the first companion robot to realize the promise of meaningful interaction between humans and machines," said Rodolphe Hasselvander, CEO and co-founder of Blue Frog Robotics. "As a result of its broad range of functions and targeted applications, BUDDY is leading the companion robot revolution, which I believe will ultimately be embraced by millions of consumers throughout the world."
Pricing and availability
The first pre-sale units of BUDDY are available for $699.00US exclusively at http://www.adoptbuddy.com. Shipment is expected in Q4 2016.
A BUDDY "12-pack" is available for $6990.00US (customers pay for 10 and two are free).
The BUDDY docking station is also available for pre-order and is priced at $150.00US.
*Purchases made from outside Europe will not be charged the Value-Add Tax (VAT). For buyers outside of Europe, the final purchase price (minus the VAT) will be reflected at check out.
About Blue Frog Robotics
Blue Frog Robotics, the creator of BUDDY, was co-founded by former CRIIF (Robotics Lab) Executive Director Rodolphe Hasselvander. The companys mission is to design and develop robots that make peoples lives easier and safer. Because BUDDY is built on an open-source technology platform, developers across the world can easily collaborate to build hardware and software for it. For more information visit http: http://www.bluefrogrobotics.com. Follow BUDDY on Twitter @adoptbuddy and on Facebook http://www.facebook.com/mybuddyrobot
Featured Product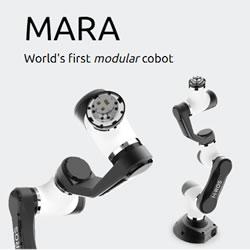 Built out of individual modules that natively run ROS 2.0, MARA can be physically extended in a seamless manner. The modular robot arm delivers industrial-grade features such as a high-speed real time enabled ROS 2.0 communication interface, security protections or a hardware power lifecycle.