The Danish robot manufacturer, that pioneered the safety systems of collaborative robots, showcases product features that help lower the automation barrier, making a robot truly collaborative. The features on display at ATX West 2016 in Anaheim are portability, ease of use, and integration.
East Setauket, New York, January 26, 2016: Having a built-in safety system that enables a robot to stop operating if it comes into contact with an employee, has long been the defining feature of collaborative robots. Universal Robots is now expanding the term "collaborative" to include user-friendliness, re-deployability and simple setup.

"Weve been the frontrunners of collaborative robotics since the term was coined. While safety is imperative, we believe that being collaborative is just as much about accessibility; placing robots within reach of manufacturers regarding automation as too costly and complex," says Scott Mabie, General Manager of Universal Robots Americas division.
Universal Robots will showcase its complete line of collaborative robots; the new UR3, the UR5 and the UR10 robot arms named after their payload in kilos, at booth #3451 at Pacific Design & Manufacuring show at ATX West in Anaheim, CA, February 9-11.
The Universal Robot arms support Flexible Manufacturing initiatives. Whether it is adjusting to material handling on seasonal lines, or performing a variety automation tasks at CNC machines, tube benders and press brakes, employees can teach the robot new moves as production schedules dictate. Using the teach pendant and moving the robotic arm, human coworkers simply change the movements of the UR robot without having to code or reprogram.
"We see a collaborative robot as a tool on demand as needed - one that can quickly be transitioned between tasks to streamline production planning. Flexibility in manufacturing involves ability to deal with variation in volumes, design and material handling as well as variations in the process sequences," says Mabie.
Unlike investments in traditional robotic cells that are caged, pre-programmed and designed for a single purpose, the multi-purpose UR robot offers a lower threshold for investment and offers more possibilities over the life of the investment. The robot arms can be plugged directly into a wall outlet and are so easy to program and set up that the typical "out of box experience" is less than an hour.
Deploying three collaborative robot arms from Universal Robots to tend the machines manufacturing medical instruments at Tegra Medical in Franklin, MA, doubled throughput, freed up 11 full time positions, and enabled the manufacturer to keep up with customer demand while keeping costs down. Tegra Medical has now repurposed the operators relieved from machine tending into other processes to keep up with company growth.
"We were looking at cost, accuracy, ease of implementation and ease of use. The Universal Robots seem to nail it in all those areas; the price point for what they were offering was extremely competitive, the accuracy and the design was just far above and beyond what we thought anyone else in the market had," says Hal Blenkhorn, Tegra Medicals Director of Engineering.
Faucet maker RSS Manufacturing & Phylrich in Costa Mesa, CA, wanted to bring manufacturing back to United States, introducing automation to compete with overseas competitors.
"In a flexible environment like this, you need a flexible robot. One that can work without safety cages, one that is portable and one that can be reprogrammed quickly. The UR robot fit perfectly within that master plan," says Geoff Escalette, CEO of RSS & Phylrich.
A Universal Robot can interface seamlessly with external machinery. At Glidewell Dental Laboratories in Irvine, CA, a UR5 robot picks a crown to be milled from dispensers with blanks in 16 different shades. The UR5 places the blank in the milling lathe, picks it back out and places it on a conveyor after the 10 minute milling cycle. A vision camera monitoring the dispensers with shades communicates with the robot. If a dispenser is empty or jammed, the vision guidance enables the robot to work on a crown in a different shade, ensuring continued production while an operator can be alerted to fix the dispenser issue.
"The interface on the touch screen makes it very easy to program the robot. I used a combination of the teach method and my own script. I really liked how reliable the UR robot is, you dont have to worry about maintenance and we have had no big operation issues come up," says Automation Engineer at Glidewell Dental Laboratories, Daniel Phee.
About Universal Robots
Universal Robots pioneered collaborative robotics and remains a market leader and first mover within this emerging technology. The product portfolio includes the collaborative UR3, UR5 and UR10 robot arms named after their payloads in kilos. Since the first UR robot entered the market in December 2008, the company has seen substantial growth with the user-friendly cobots now being sold in more than 50 countries worldwide. Average payback period for UR robots is the fastest in the industry with only 195 days. The company is headquartered in Odense, Denmark, where all development and production is carried out. U.S. offices are located in New York, Ann Arbor, Los Angeles and Dallas.
www.universal-robots.com
Featured Product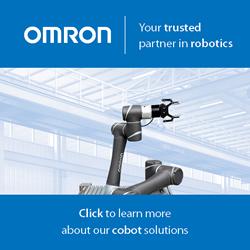 Humans and robots can now share tasks - and this new partnership is on the verge of revolutionizing the production line. Today's drivers like data-driven services, decreasing product lifetimes and the need for product differentiation are putting flexibility paramount, and no technology is better suited to meet these needs than the Omron TM Series Collaborative Robot. With force feedback, collision detection technology and an intuitive, hand-guided teaching mechanism, the TM Series cobot is designed to work in immediate proximity to a human worker and is easier than ever to train on new tasks.