Drone World will take orders for the all-new DJI Phantom 4 on March 23, 2016.
Top drone kit retailer Drone World will make the eagerly anticipated DJI Phantom 4 Drone & Bundle Kits available for pre-order on its website on March 23. Shipments of the newly announced Phantom 4 will begin on April 1.

Customers can sign up for early-bird access and notifications about the Phantom 4 here: http://www.drone-world.com/phantom-4-pre-order-sign-up
DJI unveiled the Phantom 4 at a public event in downtown Manhattan earlier today. Drone World CEO Stephen McKenna, who attended the event, praised the newest Phantom:
"Our partner DJI continues to amaze us, setting a new bar for consumer drones. The Phantom 4 is truly groundbreaking, offering cutting-edge technology and performance while bridging the Phantom and Inspire series drone gap. In a sense, the Phantom 4 is the best of both worlds."
Among the Phantom 4s new features are obstacle-avoidance technology, subject-tracking, long-distance live HD video streaming, and easily removable batteries and propellers. A larger battery and motors improve the Phantoms already stellar performance, pushing top speed to 45 MPH and flight time to almost 30 minutes.
The DJI Phantom 4 drone at Drone-World.com will retail for a starting price of $1,399, with Drone World already preparing to offer exclusive bundles, kits, and accessories. Drone World is also at work developing modifications to enhance the Phantom 4s range and performance. The company is already offering the Nanuk 950 custom hard case (with foam insert), 5.11 Rush military backpack, and optional 32 and 64GB memory cards for the Phantom 4. All Drone World Phantom 4 bundles include a free custom iPhone device cable. DJI
As the name suggests, the DJI Phantom 4 is the fourth-generation of the celebrated Phantom series of aerial drone. The Phantom 3 is the worlds best-selling consumer drone, accounting for a majority of consumer drone sales worldwide. DJI alone dominates 70% of the market with a $10 billion dollar market share that is only expected to grow this year.
Still pulling in strong sales alongside the new release, Drone World will continue to offer the Phantom 3 Advanced and Professional drones, bundles, and accessories. The Advanced which uses a 2.7K camera retails for $799, the Professional retails for $999, both are great values.
Customers can learn more about the DJI Phantom 4 info, specs, pictures, etc, HERE
They can also view Drone Worlds exclusive Phantom 4 accessories HERE
About Drone World: Drone-World.com is the webs preferred destination for consumer and professional unmanned aerial drones, drone kits, and drone accessories. Drone-World.com combines superior customer service and know-how with over 5 years of drone experience and 10 years of web sales and service. They specialize in custom DJI Phantom bundle kits, including the highly popular DJI Phantom 3 kit, the OSMO kit, the Inspire 1 kit, and the newly released DJI Phantom 4 kit and DJI Phantom 4 bundle.
Featured Product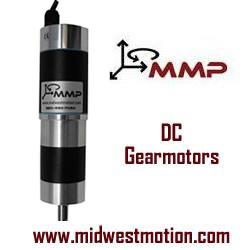 Midwest Motion Products, Inc. (MMP), is a well-established, healthy, & growing Family Owned Business, founded in 2001. MMP specializes in cost-effective standard DC Gearmotors, Motors, Controls, and ancillary equipment. Known world-wide for our "Lightning Fast" delivery capabilities, you can have a Standard Planetary or Right Angled DC Gearmotor BUILT and SHIPPED, often on the very same day you call. Offering Brushed and Brushless designs, with winding voltages ranging from 12 VDC to 120 VDC, we can deliver your "Robust & Reliable" samples within HOURS, instead of weeks, or even months.