Social home robot uses latest technology, raises $250,000+ in pre-orders in first 5 days
Aido, the worlds most advanced interactive home robot launched pre-orders on crowdfunding platform Indiegogo. InGen Dynamics is a Palo Alto based privately held company with strategic partnerships with the worlds leading Vision, Sound, Latest Technology, Robotics, Artificial Intelligence and Optics companies. Aido is a home robot that acts as an entertainment system, a smart-home controller, a security system and even a kitchen assistant; overall Aido is a friendly robot and an ideal companion with latest technology to have around the house.

T3 - one of the worlds leading latest technology and gadget publications - has recognized Aido as the GameChanger product of 2016, and the T3 team called Aido "the future of home robotics, unlike anything they have reviewed so far".
The Aido team has already raised 250,000$+ in pre-orders on Indiegogo, with pledges starting from $499, backers can expect to receive their robots by October 2016. This follows two previous rounds of funding from leading angel investors. The Aido team has been overwhelmed by the response so far, with an impressive 900 units already reserved.
http://igg.me/at/aido
The market for consumer and business robotics industry is forecast to explode in the next few years, driven by growing number of smart homes/devices, cheaper and more powerful latest technology components and rapid acceptance of home robotics products. A recent report from Business Insider Intelligence predicted the market for consumer and business robots to be $1.5 billion by 2019.
Aido was built with new age user needs in mind. Aido has an interactive projector system, advanced speech recognition, face detection, object recognition, scene recognition, a unique dual tech battery (half lead-acid and half nickel-cadmium - to provide all day battery life), a rich range of sensors, patrol mode with intruder alerts, a companion app on Android or iOS, an incredible personal AI & seamless integration with all home automation and security needs.
Says Hisham, "Aido is the next generation of home robots: A state-of-the-art machine with unlimited possibilities launching at an incredibly attractive price point."
Key specifications:
Total height: 914 mm | Net weight: 8 Kg | 4 degree of motion | Ballbot based mobility
Key Use Cases:
Play the perfect entertainer
Aido comes with two projectors: an interactive head projector that can track gestures, and an optional HD multimedia projector thats designed for watching movies. With a 2" woofer, dual tweeters & a 10-watt amplifier, Aido can stream and play your favorite videos on any surface through its projector for a great home theatre experience.
Make home smarter and life easier
Aido supports WiFi, Bluetooth, BLE, Zigbee, DLNA and Z-Wave standards to connect and control over 10000 devices. Its inbuilt infrared module lets it control your TV, music system and other devices with just your voice. You can also set schedules with Aidos visual Workflow manager to automate activities. (eg: you can ask Aido to lock your home, set your room temperature and switch off lights when you say goodnight to Aido)
Get help with chores at home
Aido is preloaded with a suite of home assistance apps that show recipe suggestions and step-by-step instructions, keep track of food you eat, maintain a list of items to purchase, and more. Aido can project video instructions for DIY projects. You can easily pause/play instructions using voice commands or gestures. Aido also can beam a flash light into difficult corners when youre repairing something.
Be a great companion for children
Aido comes with a storyteller module that can read and perform stories from around the world. Aido also supports a set of interactive games that can be played using latest technology in gestures.
Featured Product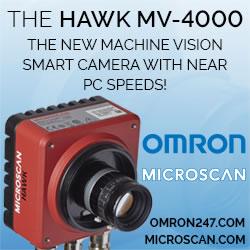 Awe-inspiring power and superior flexibility is sheathed within the contoured casing of the HAWK MV-4000. This smart camera builds upon the previous generation by quadrupling processing power and achieving real-time trigger response using an FPGA. Its state-of-the-art algorithms make it an excellent tool for any industry, whether the requirement be code reading, code verification, inspection, guidance, gauging or a combination of all four.