Japan House enhances humanity with robotics, AI, medtech, innovative mobility, and entertainment tech
Japan House, a collaboration of dedicated leaders in technology with the goal of enhancing human existence through innovative science, is returning to SXSW Interactive 2016 on March 14th and 15th at the Vulcan Gas Company.

After a successful debut last year that attracted an impressive crowd of more than 800 attendees, this years event will bring cutting-edge technology and a dose of Japanese culture to the United States, complete with celebrity speakers, panel sessions, interactive exhibitions and live entertainment centered around this years theme, "Extension of Humanity."
"Were thrilled to return to SXSW Interactive this year to raise awareness about the emerging innovation from Japan," said Kumiko Kitamura, executive producer of Japan House. "This years theme truly shows the endless possibilities of how humanity and technology can come together in harmony."
The two-day event will include groundbreaking sessions with highly acclaimed Japanese technologists on topics such as:
Robotics engineering with artificial intelligence
Augmented humanity and hyper medicine
Future mobility
Japanese entrepreneurship/startups
Future entertainment
World-renowned artificial intelligence roboticist, Dr. Hiroshi Ishiguro, a featured speaker of SXSW 2016, will head the session "Conversational Robot Technologies." Dr. Ishiguro will be showcasing Geminoid HI-4 and CommU, interactive androids that can converse with and understand human beings. These technological advancements were made possible by AI technologies of Osaka University and Japanese telecom company NTTs speech recognition technology.
Dr. Ishiguro will also be a part of the OPEN ROAD Project panel, an alternative transportation project aiming to overhaul mobility within a city. The project envisions an unseen sense of freedom of movement by innovating not only products but also services.
"Were excited about introducing i-ROAD, a vehicle that seamlessly brings together human movement and transportation in a unique way," said Yumi Otsuka, General Manager, Administration Dept., Toyota Planning Div. 1 of Toyota Motor Corporation. i-ROAD is a primary element of the OPEN ROAD PROJECT which attempts to overhaul the concept of urban mobility.
Japan House will also introduce some of the countrys cutting-edge medtech and information technology start-ups admitted into the Technology Commercialization Program (TCP), who will present their ideas in a pitch competition. The event is commissioned by the Japanese Ministry of Economy, Trade and Industrys New Energy and Industrial Technology Development Organization (NEDO).
This panel session will discuss advances in medtech, such as remote-control medical manipulation, 3D medical image processing, and advanced texture sensory sciences. The panelists include Dr. Maki Sugimoto, who developed human organs with biological texture by combining medical and engineering technologies, Dr. Ikkei Matsuda of Science, Art & Research for Reconstruction (SARR), and Dr. Hironobu Azuma of Japan Research Institute (JRI). In addition, the medtech startups will be pitching their innovations.
Articulating the extension of humanity theme, NTTs wearable pulse sensor will provide stunning visuals to a live performance, illustrating the future intersection of music and technology. In addition, Japan House attendees will experience NTTs new technology, Kirari!, an immersive telepresence technology, which will display a holographic musical performance in the palm of their hands.
Japan House will culminate with a culinary cultural exchange featuring Celebrity Chef Anthony Bourdain, and Roads & Kingdoms Chief Editor Nathan Thornburgh, where they will judge the creations of Izakaya Cuisine and host a colorful karaoke competition.
For more information on the full event lineup, please visit jpnhouse.com.
About Japan House
JAPAN HOUSE, designed to be an ongoing project that features prominent people from the interactive, music, and film industries, kicked off as JAPAN DAY, an SXSW 2015 official event. JAPAN HOUSE aims to reveal to the world the unique "All Japan" technologies and services that are born out of Japanese culture and philosophy. Various country showcases such as the British Council, German Haus, Casa Brasil are becoming increasingly popular, with over ten such events held throughout the duration of recent SXSW festivals. JAPAN HOUSE of SXSW 2015 was widely touted as a popular event attracting over 800 visitors which included investors, analysts, media, engineers, entrepreneurs, and U.S. governmental officials.
About SXSW Interactive
The 23rd annual SXSW Interactive Festival returns to Austin from Friday, March 11 through Tuesday, March 15. An incubator of cutting-edge technologies and digital creativity, the 2016 event features five days of compelling presentations and panels from the brightest minds in emerging technology, scores of exciting networking events hosted by industry leaders and an unbeatable lineup of special programs showcasing the best new websites, video games and startup ideas the community has to offer. From hands-on training to big-picture analysis of the future, SXSW Interactive has become the place to discover the technology of tomorrow today. Join us in March 2016 for the sessions, the networking, the special events, the 18th Annual SXSW Interactive Innovation Awards, SXSW Accelerator®, the SXSW Gaming Expo, the SXSW Trade Show, the SX Health & MedTech Expo, SX Create,The Job Market, cross-industry conversations with attendees from SXSW Film and SXSW Music, and, most of all, the unforgettable inspirational experiences that only SXSW can deliver.
SXSW Interactive 2016 is sponsored by Esurance, Mazda, Monster Energy, Capital One, Bud Light, Deloitte Digital, McDonalds, Ten-X and The Austin Chronicle.
Featured Product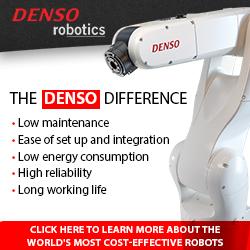 DENSO is the world's largest manufacturer - and user - of small assembly robots, employing over 17,000 of its robots in its own facilities. Over 77,000 additional DENSO robots are used by other companies worldwide. The compact, high-speed robots are used in traditional manufacturing sectors, as well as in advanced-technology applications in the medical, pharmaceutical and life sciences industries. Learn more about DENSO Robotics